Drama in English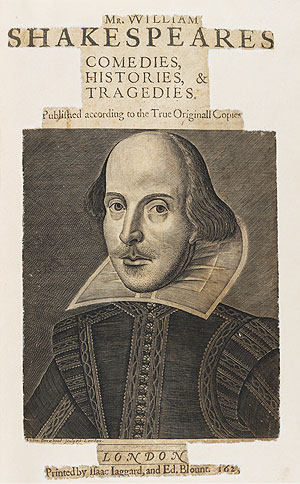 Titlepage of Shakespeare's first folio, Comedies, Histories, & Tragedies..., London, 1623
The Library has very substantial printed holdings of drama in English from the Restoration period to the present day. This page should be read in conjunction with Modern Literary Manuscripts in English.
While there are some notable earlier editions including the unique The worlde and the chylde, London, 1522, and a copy of the Shakespeare First Folio of 1623, the pre-1660 holdings are relatively slight.
The collection's focus is on editions of works of Irish dramatists especially those educated at Trinity College Dublin. These include:
George Farquar
William Congreve
Oliver Goldsmith
Oscar Wilde
Samuel Beckett
There is a substantial amount of ancillary material such as theatre histories, biographies, periodicals and theatre politics.