Icelandic Manuscripts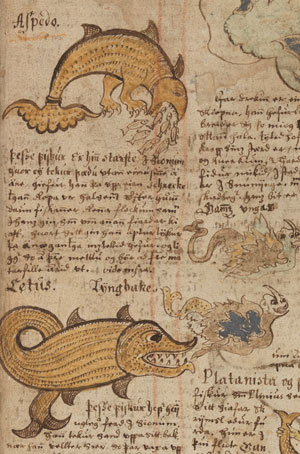 MS 1017 fol 29: 18th-century Icelandic natural history
There are around 60 items of Icelandic origin in Manuscripts & Archives; many of these are 18th-century transcripts of legal texts, poetry, medical texts, prose texts and the sagas.
Of particular interest are TCD MS 1017, a natural history dating from 1724 illustrated with drawings of wild, domestic and fabulous creatures; TCD MS 1023, a 15th-century law book; and TCD MS 1029, a 16th-century work containing treatises on logic and rhetoric.
Catalogues and Bibliography
Catalogues for individual collections are available in the reading room of Manuscripts & Archives.
O. Halldórsson, Skrá yfir íslenzk handrit í Dublin. Unpublished.
O. Skulerud, Catalogue of Norse Manuscripts in Edinburgh, Dublin and Manchester (Kristiania: Emil Moestues Boktrykkeri, 1919)
G. Waterhouse, "G. J. Thorkelin and the Rev. James Johnstone", The Modern Language Review 26(4) (October 1931), pp. 436-444