Family and Estate Papers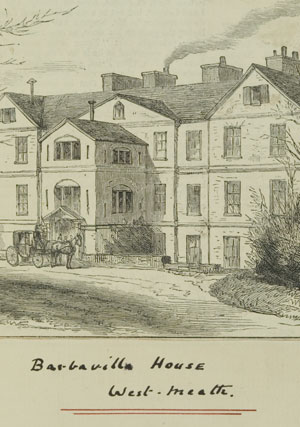 MS 11198/8/61: papers of Smythe family of Barbavilla, Co. Westmeath
Manuscripts & Archives holds a substantial number of collections of landed estate papers:
MS Donoughmore Deposit : the papers of the Earls of Donoughmore, whose family home was at Knocklofty, Co. Tipperary, span the period from the mid 17th to the mid 20th century
MS Courtown Deposit; MS 11183: the Courtown papers contain records of the Stopford family. They cover a period from the 18th to the 20th century and relate to the management of the lands in the counties of Wexford, Carlow and Kilkenny
MSS 7576-7635: the Arran Papers relate to the Gore family whose lands were in counties Wexford, Donegal and Mayo. The papers and date from the mid-18th to the mid-19th centuries
MS Barker Ponsonby Deposit: these papers relate to counties Tipperary, Kilkenny and Limerick and span from the late 17th to the early 19th century
TCD MS 3939-3984a: the papers of the Conolly family of Castletown, Co. Kildare cover the period 1709 to 1900
MSS 7258-7360: the papers of the Clements family, of counties Cavan and Leitrim
Other family papers include those of the Hamiltons of Dunboyne, Co. Meath (MSS 4817-4823) and the Hartpole-Bowens of counties Mayo, Laois and Kilkenny (MSS 1933a-n and 4813-4816). Some collections are comprised mainly of deeds, and examples of these include the papers of the Earbery and Crofton families of Co. Cork (MSS 3575-3587), and the papers of the Barons Ormathwaite of counties Cork and Kerry (MSS 5960-5964).
Catalogues
Catalogues for individual collections are available in the reading room of Manuscripts & Archives.