Photographs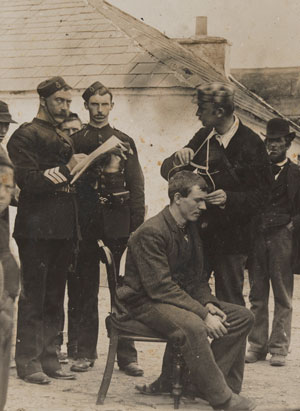 MS 10961/4 fol 5v: Anthropometry on Inishbofin, 1892
Manuscripts & Archives holds a diverse collection of photographs including:
MS 11332: the papers of John Millington Synge (1871-1909) contain a substantial number of photographs, including those that were later published as My Wallet of Photographs. These depict island life on Aran and the Blaskets, markets and fair days in Dublin and Galway, and the countryside of Co. Wicklow
MS 10961: the collection of Dr Charles R. Browne (186[7]-1918) consists of six albums of images from the western islands, as well as scenes of Dublin and Trinity College.
MS 9649: the Michael Davitt (1846-1906) papers contain a large amount of photographs some of which serve as a record of Davitt's extensive travels in Europe, Australia, New Zealand, the United States, Canada, South Africa, Russia and the Holy Land
MS 7890: the photographs in the Childers collection date mainly from the time of Robert Erskine Childers (1870-1922). They include family photographs, as well as those of politicians and others. There are also a substantial number of images of sailing, including photographs of the Asgard, which was used in the Howth gun-running episode of 1914
MS 10404: the O'Sullivan Beare collection containing later 19th-century images from East Africa
MS 10813: the papers of the Pike Theatre in Dublin contain a substantial number of photographs of various theatrical productions and personalities in the 1950s
Images of the College, its officers, and its students, appear in various collections within the College Archives and in the papers of student societies and clubs
Catalogues and Bibliography
Catalogues for individual collections are available in the reading room of Manuscripts & Archives.
F. O'Mahony "Michael Davitt's travels abroad, 1884-1905", in: Fox. P (ed) Treasures of the Library, Trinity College Dublin (Dublin: Royal Irish Academy for Trinity College Library, 1986), pp. 205-214
J.M. Synge, My Wallet of Photographs: the Collected Photographs of J.M. Synge, Arranged and Introduced by Lilo Stephens (Dublin: Dolmen Press, 1971).