Deeds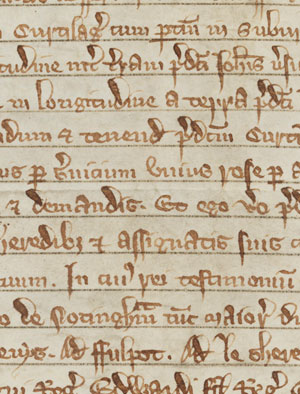 MS 1207/76b: 14th-century land deed from Dublin
There are four main collections of medieval and early-modern deeds in Manuscripts & Archives:
MS 1207 is a collection of Irish deeds. There are over 300 of these: the dated ones range from 1246 to 1691
MS 1208 is a collection of 127 English deeds of which 52 are undated and the remainder date from 1189 to 1623
MS 9934 is the third main collection of deeds and is made up of over 150 unrelated items from different sources. Most of these items are from the 18th or 19th centuries; there are around 40 early modern items and approximately 30 medieval deeds. They refer mainly, but not exclusively, to Ireland
MS 1477 is a collection of 200 deeds of the parish of St John, Dublin dating from the 13th to the 18th century
Deeds may also be found within the College Archives collection and within several of the of family and estate papers collections.
Catalogues and Bibliography
Catalogues for individual collections are available in the reading room of Manuscripts & Archives.
T.K. Abbott, Catalogue of the Manuscripts in the Library of Trinity College Dublin (Dublin, 1900)
J.L. Robinson, "On the ancient deeds of the parish of St John, Dublin", Proceedings of the Royal Irish Academy XXXIII C 7, pp. 175-224
J.G. Smyly, "Old Latin deeds in the Library of TCD",
Hermathena
(November 1945)