Military History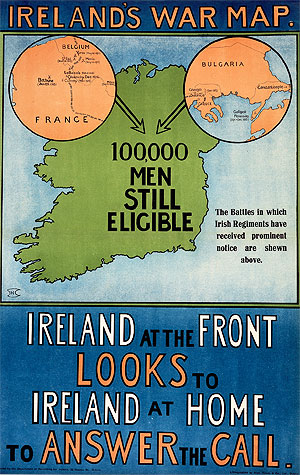 WWI recruiting poster issued by the Department of Recruiting for Ireland, Dublin
There is an abundance of accounts of warfare in the Early Printed Books collection. The ancient Greek, Roman and Carthaginian wars are covered in a variety of editions. More recent struggles are in the numerous pamphlets on the Dutch War of Independence and the English Civil War.
18th-century warfare in Europe and elsewhere in the world is recorded in the newspapers, pamphlets and formal histories.
There is a wide range of military and travel manuals, memoirs and biographies, as well as numerous maps and charts.
In recent years the Department has invested in works relating to the French military effort on the Western Front in France in World War I.
The main strength of the collection is in British military history. There are extensive holdings of army and navy lists, official and regimental histories and personal narratives.
The Manuscripts & Archives collection has a number of 18th-century military establishment of civil list records and a considerable number of significant mid-17th-century records which contain military material, and papers of individuals involved in the British Army. The records of the OTC are also held.