Genealogy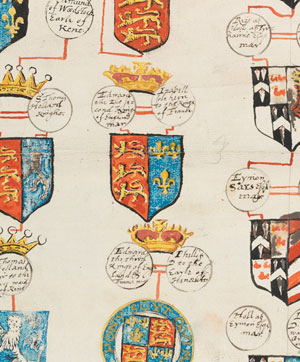 MS 11336: Heraldic pedigree of the Hartpole family
The Library will undertake very basic searches in response to genealogical enquiries but does not offer a research service.
Student records
Entrance records 1637-1961
The series TCD MUN V 23 (TCD MUN V 23/1-10) is a collection of volumes (entrance books/matriculation registers), which list the names of entrants in chronological order (according to the date of their entry to College); other information includes age at entry (and in certain cases exact day of birth), religion, father's name and profession, county of birth, and place of previous education.
The volumes in the series TCD MUN V 24 (TCD MUN V 24/1aa, 1a & 1-10) serve as indices to the MUN V 23 series as they are more-or-less alphabetical within each group of years, giving name, date of entry, name of College tutor and further observations.
In order to find more information on a particular individual, first search for him or her in the appropriate volume of the indices (MUN V 24 series). Once a date of entry has been established, further information may be found in the corresponding volume of the entrance books (MUN V 23 series).
A certain number of these volumes have been digitised by our Digital Collections; direct links to the digitised versions of the series and to individual volumes are available below.
INDICES TO ENTRANCE BOOKS (TCD MUN V 24 series)
TCD MUN V 24/7 (1896-1915) (not available online)
TCD MUN V 24/8 (1915-1937) (not available online)
TCD MUN V 24/9 (1937-1958) (not available online)
TCD MUN V 24/10 (1958-1961) (not available online)
ENTRANCE BOOKS/MATRICULATION REGISTERS (TCD MUN V 23 series)
TCD MUN V 23/2 (1637-1725) (copy of MUN V 23/1)
TCD MUN V 23/8 (1910 - June 1937) (not available online)
TCD MUN V 23/9 (July 1937 - July 1952) (not available online)
TCD MUN V 23/10 (1952-1953) (not available online)
Two printed sources, based on information available in these and other student records, are also useful researching alumni of the College:
Alumni Dublinenses: A Register of the Students, Graduates, Professors, and Provosts of Trinity College, in the University of Dublin 1593-1860. Alumni Dublinenses is based mainly on the entrance books listed above.
The multi-volume Catalogue of the Graduates of the University of Dublin provides the name, degree and date of degree of each student from the foundation of the College to the present day.
Other student-related records include entrance marks books (1839-1929); examination returns (1719-1856); registers of exhibitioners, scholars and sizars (19th-20th centuries); lecture attendance books (1783-1847); Chapel attendance books (1842-1933); degree registers (18th-20th centuries); and degree signature books (1750-1975).
The records of student societies and clubs may also contain information on student members.
The College operates a strict 100-year non-access policy in relation to records containing personal information relating to officers and students of Trinity. Consultation of records that are less than 100 years old is not permitted, unless permission is obtained from the person in question or from his or her direct descendant(s).
Other material
Other genealogical and heraldic material includes:
MSS 1212-1221: volumes compiled by Dr John Madden (d.1703) relating to the principal Irish and English families in the 16th to 18th centuries
MSS 456-477: 22 volumes of arms from the libraries of four Ulster Kings of Arms
MS 2063 et al: records of Dublin parishes, principally St Bride's
Bibliography
A Catalogue of the Graduates of the University of Dublin, Vols. I-VIII (Dublin, 1869-2005)
G.D. Burtchaell and T.U. Sadleir, Alumni Dublinensis: A Register of the Students, Graduates, Professors, and Provosts of Trinity College, in the University of Dublin 1593-1860 (Dublin, 1935)
K.C. Bailey, Trinity College Record Volume (Dublin, 1951)
D.A. Webb and J.R. Bartlett, Trinity College Record Volume (Dublin, 1991)
D.J.M. Sherlock, Trinity College Record Volume (Dublin, 2006)
E. Curtis, "Extracts from Herald's Books in Trinity College Library relating to Ireland in the 16th century", JRSAI (June 1932), pp. 32-49