Medieval and Early-Modern Irish Language Manuscripts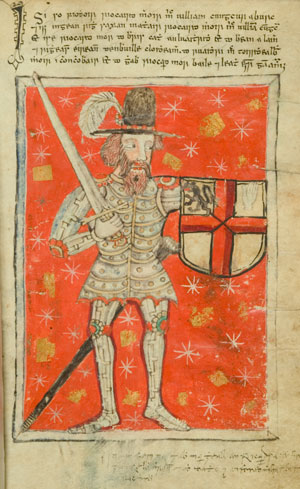 MS 1440 fol 19r: the Book of the de Burgos.
Manuscripts & Archives holds a major collection of over 200 medieval and early modern manuscripts written in Irish. The Book of Kells (MS 58, c. 800) contains 12th-century notes in Irish recording land grants and the Book of Armagh (MS 52, c.807) contains glosses on the documents relating to St Patrick and "Tíreachan's Annotations" on the life of St Patrick. The Liber Hymnorum (MS 1441, c.1000) contains devotional hymns in both Latin and Irish.
The earliest manuscript entirely in Irish is the Book of Leinster (MS 1339, 12th century), properly Leabhar na Nuachongbhála. It is an anthology of Irish prose, verse and genealogy which takes its name from an ecclesiastical foundation in Co. Laois. It opens with a copy of the Lebor Gabála (the Book of Invasions), and also includes a version of An Táin Bó Cuailnge (the Driving of the Bull of Cooley).
The Yellow Book of Lecan (MS 1318, late 14th/early 15th century) is a composite manuscript containing medical tracts, grammatical and aphoristic material, the famous glossary Sanas Chormaic attributed to Cormac Mac Cuileannáin (d. 908) and miscellaneous prose tales, including almost the whole of the Ulster Cycle.
Manuscripts & Archives is home to a significant collection of medical manuscripts in Irish accounting for over a quarter of all extant medieval medical manuscripts in Irish. The Library possesses several of the primary Irish legal texts which previously belonged to Edward Lhuyd (MSS 1316, 1336, 1337, 1363, 1387 and 1433). These are mostly 15th- and 16th-century copies of 7th- to 9th-century texts. TCD MS 1316 contains parts of the Seanchus mór, the great 7th- to 8th-century collection of law tracts.
The Annals of Ulster (MS 1282, late 15th century) are an important compilation of Irish annals. They comprise a chronicle of medieval Ireland, spanning from the coming of St Patrick to the beginning of the 16th century. The Annals of Loch Cé (MS 1293, late 16th century) document the period 1014 to 1571, beginning with the Battle of Clontarf (1014).
The Annals of the Four Masters (MSS 1300-1301) date from pre-history to 1616, and were compiled by the Irish Franciscans between 1632 and 1636 in a Franciscan monastery in Co. Donegal. The chief author was Mícheál Ó Cléirigh, antiquarian and a member of the Franciscans.
MS 1440, Historia et Genealogia Familiae de Burgo, comprises the genealogical history of the Burke family, compiled in the late 16th century.
Catalogues and Bibliography
Catalogues for individual collections are available in the reading room of Manuscripts & Archives.
Many of the manuscripts discussed can be viewed digitally on Irish Script on Screen and Corpus of Electronic Texts.
T.K. Abbott and E.J. Gwynn, Catalogue of Irish Manuscripts in the Library of Trinity College Dublin (Dublin: Hodges, Figgis & Co, 1921)
E. Bhreathnach and B. Cunningham (eds), Writing Irish History: The Four Masters and their World (Dublin: Wordwell, 2007)
G. Mac Niocaill, "The Irish-language manuscripts" in: Treasures of the Library, Trinity College Dublin (Dublin: Royal Irish Academy for Trinity College Library, 1986), pp. 57-66
W. O'Sullivan, "The Irish Manuscripts in Case H in Trinity College Dublin" Celtica XI (1976), pp. 229-250
R.I. Best, Osborn Bergin, M.A. O'Brien and Anne O'Sullivan (eds), The Book of Leinster, formerly Lebar na Núachongbála. 6 vols. (Dublin: DIAS, 1954-83. Diplomatic edition)
S. Mac Airt and G. Mac Niocail (eds), The Annals of Ulster (to AD 1131) (Dublin: DIAS, 1983)
W.M. Hennessy and B. Mac Carthy (eds), Annala Uladh: Annals of Ulster otherwise Annala Senait, Annals of Senat. A Chronicle of Irish Affairs from A.D. 431 to A.D. 1540. 4 vols (Dublin: Her Majesty's Stationery Office Dublin, 1887-1901)