1641 Depositions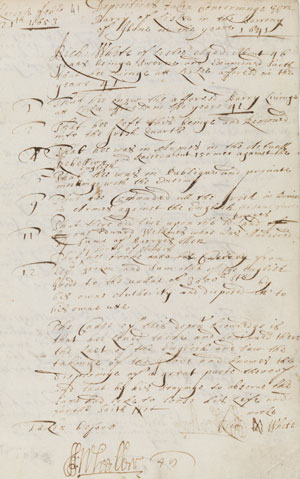 TCD MS 827: 1641 Deposition from Co. Fermanagh
The 1641 Depositions (MSS 809-841) held in Manuscripts & Archives comprise over 3,000 personal statements or "depositions" of Protestant men and women of all classes, made following the outbreak of the rebellion by the Catholic Irish in October 1641. This material was collected by special commissioners between 1641 and the end of the war in 1654, and was used as evidence in the subsequent trials of rebellion leaders. The Depositions constitute the chief evidence for the contested allegation that the 1641 rebellion began with a general massacre of Protestant settlers.
The 1641 Depositions Project (2007-2010) is currently underway to conserve, transcribe and digitise the Depositions. On completion this material will be published on the web, creating a unique research tool and a comprehensive electronic resource.
Catalogues and Bibliography
Catalogues for the collection are available in the reading room of Manuscripts & Archives.
A. Clarke, "The 1641 Depositions" in: Treasures of the Library, Trinity College Dublin (Dublin: Royal Irish Academy for Trinity College Library, 1986), pp. 111-122