Middle English Manuscripts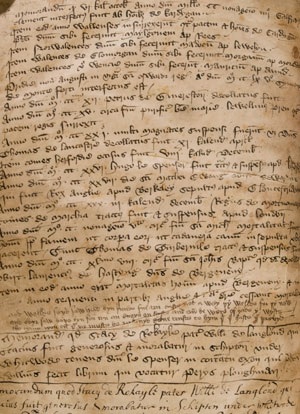 TCD MS 212 fol 89v: The Vision of Piers Plowman, attributed to William Langland.
"Middle English" is the term applied to the several forms of the English language used between the 11th and the 15th centuries. Trinity College Library has a collection of around 50 such manuscripts, mostly dating from the later Middle Ages. The most famous of the group, MS 212, contains one of the earliest (c.1400) and best versions of the "C" text of the allegorical poem Piers Plowman; it is from this manuscript that the attribution of the poem to William Langland is derived.
Other well-known literary texts represented in the collection include:
MSS 153-5, 159: works by Richard Rolle of Hampole
MSS 69, 156-8: copies of The Pricke of Conscience, formerly attributed to the same author
MS 490: an important copy of the popular Brut chronicle
Religious texts include:
MSS 241-6, 520: an important body of 14th- and 15th-century works supporting the views of the controversial 14th-century theologian John Wyclif
MSS 66-67, 70-76: biblical texts in the versions used by Wyclif's adherents, the Lollards, among them a Bible associated with John Purvey
MSS 122, 428 and 319: other 15th-century devotional treatises, sermons and saints' lives
There are also two 15th-century personal miscellanies (MSS 432, 516) which contain important historical material on contemporary affairs and collections of political verse, much of it relating to the Wars of the Roses.
Catalogues
John Scattergood's catalogue of the Middle English manuscripts is in preparation. He has published extensively on the collection in Manuscripts and Ghosts: Essays on the Transmission of Medieval and Early Renaissance Literature in England (Dublin: Four Courts Press, 2006) and other works.