Trinity College Dublin Archives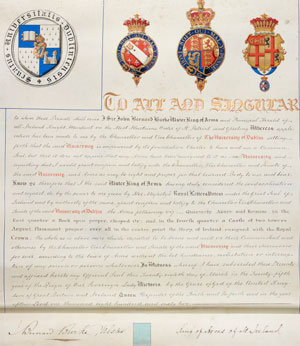 MUN/D/1311a: Grant of Arms to TCD, 1862
The College Archives form an important separate collection within Manuscripts & Archives. They contain the records of Trinity College Dublin from its foundation in the late 16th century to the present day. The Library continues to acquire all types of relevant documents generated by departments, administrative offices, College officers, the Library, and student clubs and societies.
The main divisions within the College records are:
Deeds and statutes
Estate papers
Board and Council minutes
Financial records
Student records
Departmental records
Library records
Buildings records (including financial records, maps, plans and photographs)
Student society and sports club records
Access
Readers are welcome to examine the catalogues of listed College Archives in the Manuscripts & Archives Reading Room, and to order original documents to consult (subject to some access restrictions). College records are subject to a 30-year rule, which means that, in general, documents are released for public consultation once 30 years has passed since the date of their creation, and they have been catalogued.
Records that contain personal information, such as certain student records, are not released for consultation until 100 years have passed since their creation date.