Education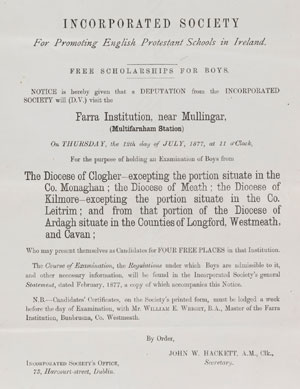 MS 5787/8/5: Incorporated Society for the Promotion of Protestant Working Schools in Ireland
The main collections in Manuscripts & Archives concerning education are:
MS 10304: John Moorhead's medical lecture notes, Medical College Ohio, c.1820-1840
MSS 5225-5859: the Incorporated Society in Dublin for Promoting Protestant Schools in Ireland. The papers span the 17th to 20th centuries and include board minutes, correspondence and papers relating to the management of schools and students
MSS 5134-202d: the Hibernian Marine Society. The society was set up to maintain, educate and apprentice the orphans of deceased seaman of the Royal Navy and the merchant service. The papers span the 18th to 20th centuries and include minute books, attendance registers and deeds relating to the Hibernian Marine Society and Nursery
MSS 7644-62: the Irish Society for Promoting the Education of the Native Irish through the Medium of their own Language. Proceedings of the committee, 1818-24
MSS 9209-9210: papers of W.J.M. Starkie (1861-1921), Resident Commissioner of National Education, Ireland (1890-8)
MS 8265: papers of Patrick Henry Pearse (1879-1916), Irish teacher, writer and political activist
MSS 10421-2: papers of Arnold Marsh (1880-1972), Irish Quaker educator and headmaster of Newtown School, Co. Waterford
MS 4301-3: papers of Sir Edward O'Brien, Co. Limerick, relating to the educational endowment of Co. Limerick schools and technical education, 1882-92
MS 10539: papers of Liam de Róiste (1882-1959), Irish scholar and politician, involved with the Munster Training College, 1910-26
MS 9722: the Central Association of Irish School Mistresses, 1889-1981
MSS 7121-7215: the Commission on Higher Education, Ireland 1960-1967. Papers belonging to T.W. Moody (1907-84), Professor of Modern History at Trinity College Dublin
MS 9230: the Department of Education Public Examinations Evaluation Project 1975 (Ireland)
The College Archives contain material relating to education within College and the Library holds some papers of former Trinity College Dublin teachers including:
Edward Dowden, Robert Atkinson, E.T.S. Walton, W.E. Hartpole Lecky, J.P. Mahaffy, John Joly, W. Alison Philips, F. La Touche Godfrey, Máirtín Ó Cadhain, R.B.D. French; T.W. Moody; R.J. Fynne, D.E.W. Wormell, James E.H. Murphy, Eleanor Knott and J. Otway Ruthven.
Catalogues and Bibliography
Catalogues for individual collections are available in the reading room of Manuscripts & Archives.
K. Milne, The Irish Charter Schools 1730-1830 (Dublin: Four Courts Press, 1997)