Registers of Papal Letters (1389-1787) and Records of the Holy Office (1564-1800)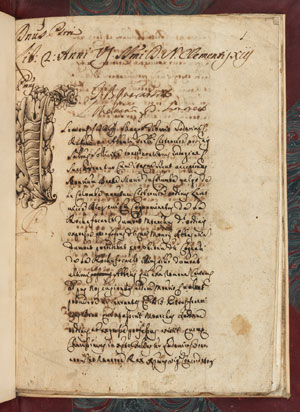 MS 1233/13: Roman Inquisition
The 13 volumes of papal letters (MS 1223/1-13) and 54 volumes of Inquisition material (MSS 1224-1277a) are among the most remarkable holdings of Manuscripts & Archives. They escaped the loss or destruction of papal archives following their removal by Napoleon to Paris in 1810 and their subsequent return to the Vatican after Napoleon's fall. These volumes were presented to the Library by Charles W. Wall, Vice-Provost of the College in 1854.
The volumes divide into three classes:
MS 1223/1-13: registers of official letters by popes from Benedict IX (1389) to Pius VI (1787). Subject matter includes assignments of benefices; decisions about impediments to marriage; and excommunications
MSS 1224-1231, 1233-1242 (AD 1564-1660): records of the supreme Congregation of the Holy Office in Rome or in provincial Italian tribunals under its jurisdiction: sentences and accompanying abjurations, most of which deal with heresy, reproducing the assertions of the accused, that, for example, the pope has no spiritual authority but is the Antichrist; that there is no purgatory; and that clergy may marry
MSS 1232, 1243-1277a (16th-18th centuries): records of the Holy Office: progress reports on litigation before provincial tribunals - denunciations, examinations of witnesses, results of preliminary inquests - which had been sent to the Holy Office in Rome for its information or decision. Offences include blasphemy, magic arts, the relapse of converts from Judaism, the circulation of prohibited books, and apostasy to Islam
Bibliography
R. Gibbings' remarks on the collection in MSS 3216 and 3791. Unpublished.
T.K. Abbott, Catalogue of the Manuscripts in the Library of Trinity College Dublin (Dublin and London, 1900), pp. 241-284
J. Tedeschi, "A queer story: the Inquisitorial manuscripts", Treasures of the Library (1986), pp. 67-74
M.L. Colker, Trinity College Library Dublin Descriptive Catalogue of the Mediaeval and Renaissance Latin Manuscripts (Aldershot, 1991), pp. 1226-1238 and bibliography pp. 1232, 1238