Romance Languages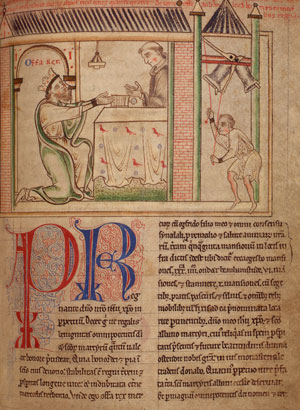 MS 177 fol 63r: the Vie de seint Auban (Life of St Alban) illustrated by Matthew Paris.
Manuscripts & Archives holds nearly 50 manuscripts containing texts in medieval French, dating from the early 13th century to the end of the 15th century. The most significant item is the unique Vie de seint Auban by Matthew Paris (MS 177).
Most of the French texts occur in manuscripts containing Latin and so are listed in Marvin L. Colker, Trinity College Library Dublin Descriptive Catalogue of Medieval and Renaissance Latin Manuscripts (Aldershot: published for the Library of Trinity College Dublin by Scolar Press, 1991).
There is a rare collection of eight Waldensian manuscripts (MSS 258-64, 267), written in a dialect of Provençal, mostly dating from the 16th century. They contain mainly religious tracts, a bible (MS 258) and a volume containing seven poems (MS 261).
The Library holds a small collection of manuscripts written in Spanish including MS 11017, a Spanish translation of the Rule of St Benedict, made for the Abbess at Trasobares in northern Spain, in the second half of the 15th century. MS 2219 consists of documents relating to the Spanish Inquisition, formerly belonging to a Spanish inquisitor Nicolas Rodriguez Hermosino (1612-92).
There are several important Italian language manuscripts in the collections. MSS 1223-1277a consist of the registers of papal letters and records of the Holy Office. MS 2943 consists of the papers of Baldassare Boncompagni (PDF 1.01MB) (1821-94), a pioneer historian of science and mathematics.
Catalogues and Bibliography
Catalogues for individual collections are available in the reading room of the Manuscripts & Archives.
M.L. Colker, Trinity College Library Dublin Descriptive Catalogue of Medieval and Renaissance Latin Manuscripts (Aldershot: published for the Library of Trinity College Dublin by Scolar Press, 1991)
M. Esposito, "Anciens Manuscrits Français des Bibliothèques de Dublin", Revue des Bibliothèques 24 (1914), pp. 185-198
L. Shields, "French texts in the Library of Trinity College Dublin", Hermanthea CXXI (1976), pp. 90-9
J.H. Todd, The Books of the Vaudois (London: Macmillan and Co, 1865)
J.M. Santamaría, "Manoscritos Españoles de la Biblioteca del Trinity College Dublin", Estudios de Filología Inglesa (Alicante: Universidad, 1990), pp. 623-41