Named Collections - S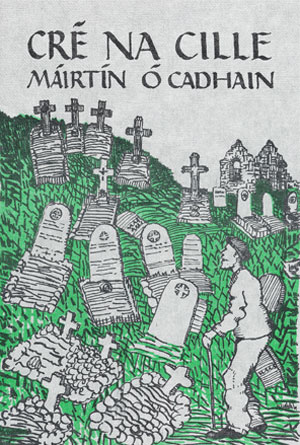 Cover from Cré na Cille by Máirtín Ó Cadhain, 1979, from the Sáirséal agus Dill collection. S & D 4: 4
St. Sepulchre's Press Archive
45 items.
This collection contains the printed output of St. Sepulchre's press from 1964 to 1992. It also includes some manuscripts and correspondence. St. Sepulchre's press, a hand press, was founded by M. Pollard in 1964 and output of the press included poetry and satirical ballads.
Presented by M. Pollard, the printer, 2001.
Sáirséal agus Dill
161 titles in 293 volumes.
This is a collection of the output of the firm Sáirséal agus Dill, the leading publishers of books in Irish. It covers the period from the start of the press in 1944 to the end of the 1970s. It includes all new editions, reprints, re-issues, variants (of text, binding or layout) and proof copies. The books consist chiefly of fiction, poetry, biographies, children's books and school books.
Presented between1969 and 1980 by the O hEigeartaigh family in memory of Sean O hEigeartaigh, founder of Sáirséal agus Dill.
Salmon
615 items.
These pamphlets on late 19th-century Irish religious, political and social topics are from the collection of George Salmon, 1819 -1904 (F.T.C.D. 1841, Provost 1888-1904).
Bequeathed 1904.
Samuels
617 items.
This collection contains printed ephemera regarded by authority as subversive. It was collected during WWI and up to 1922 and given to A.W. Samuels, Solicitor General for Ireland 1917-1918 and Attorney General for Ireland 1918-1919.
E. Solomons and S. O'Sullivan
2000 items.
This is a miscellaneous collection of 18th to 20th-century books including poetry, art books and early 20th-century Irish material.
Purchased 1970 with O'Sullivan's editorial archive of the Dublin Magazine.
Starkey
380 items in 250 volumes.
This is a collection of hymnbooks and psalters printed in the 18th and 19th centuries. There are approximately 314 pre-1850 items and 66 post-1850 items. The Wesleys are very well represented (47 volumes); there are approximately 25 volumes of the Moravian Church and 50 other hymnals in the German language. It includes two Wing items only.
Bequeathed by James Sullivan Starkey, 1959.
Stephens
1,017 items.
This was the personal library of James Stephens, the novelist, poet and broadcaster. Besides an extensive collection of his own works, it contains much literature published between 1920 and his death in 1950. This is principally in English but there is also some in French. There are inscribed copies from several prominent contemporaries, e.g., James Joyce, T.S. Eliot, George Russell (Æ). Stephens' personal papers are held in Manuscripts & Archives.
Presented by J. Stephens' daughter, Iris Wise, 1990.
Strollers Club
1,960 items.
This is vocal music dating from the early 19th to mid 20th century. The Strollers Club, founded approximately 1855, is an amateur singing club in Dublin.
Presented 1995.
Suzannet
35 items.
This is a collection of editions of works by E.O.E. Somerville and Martin Ross. Manuscripts of some of the Irish R.M. stories were included in the gift.