Accessions Catalogue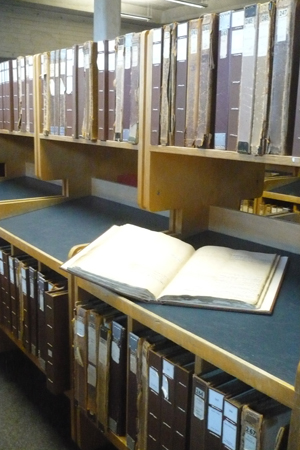 The Accessions Catalogue in 2014
The Accessions Catalogue was the main discovery tool for the Library for about 100 years from 1872, when the Printed Catalogue was published, and up to 1964, when it was closed in the lead-up to the building of the New Library.
The Catalogue is described by librarians as a guard-book catalogue and the records are typescript slips pasted onto pages held in 436 volumes that were shelved in Iveagh Hall of the Library. As the sole set of physical volumes were deteriorating, a digital surrogate was made so that full access to all the individual volumes will be maintained.
All of the approximately half-million records in the Accessions Catalogue have been converted into records now in Stella Search, following several conversion projects between 1996 and 2021. However, at times it might still be useful to cross-check the original records for publications acquired before 1964. The digital images of each page are currently mounted in Flickr and can be accessed using the links below for individual alphabetical sequences.