Named Collections - P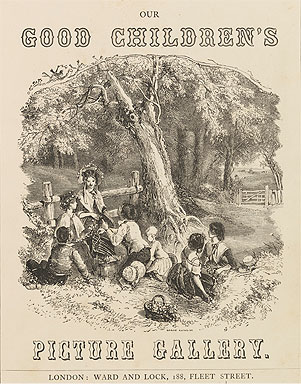 Titlepage of Our Good Children's Picture Gallery, London, Ward and Lock, undated.
Palliser
4,000 items approx.
This is a selection of items taken from the library of W.C. Palliser, Archbishop of Cashel, under his will. It covers subjects including theology, politics and classical literature.
Bequeathed 1726.
Pollard
Over 10,500 items.
The Pollard Collection – a bequest of Mary "Paul" Pollard, former Keeper of Early Printed Books – is the largest collection of children's books in Ireland. Items date from the 17th century to the early 20th century with a special focus on Irish imprints, Irish writers, and books written for girls. Extensive holdings of works by Maria Edgeworth, Barbara Hofland, and Mary Sherwood feature in the collection. Some of the themes covered include heroic stories, popular adventures, schoolbooks, Latin classics, fables, moral tales, hymns, songs, chapbooks, picture books, fairy tales, and nursery rhymes.
Bequeathed 2005.
Pollard School-Book
567 items.
This collection is comprised of textbooks mainly used in Irish schools before 1910. It includes 80 18th-century items but its greatest strength is the inclusion of 19th-century works published by the Commissioners of National Education who directed the Irish national primary schools from 1831. The Commissioners' texts were also widely used in England and the colonies in the 1840s and 1850s. The subject coverage is general ranging from English language reading books to needlework manuals.
Purchased 1985.
Prout
2,500 items approx.
This was the personal library of Ebeneezer Prout, d. 1909, Professor of Music at TCD 1894-1909. It contains some 18th-century works, particularly French operas, but is predominantly 19th-century material. It includes the early standard editions of Bach, Handel and Mozart, and also some of Prout's own compositions.
Purchased 1910.
Purser Shortt
900 items approx.
This collection is a bequest of the Rev. Canon John Purser Shortt, 1966. It includes 160 pamphlets made up of liturgies (mainly Anglican, including 240 Books of Common Prayer, with a few editions of liturgies of other churches), psalters, hymnals and other religious works.
The collection contains approx. 230 pre-1850 items. These are mainly 18th-century, one-third of which are Irish imprints and the rest are mainly English. There are a small number of continental imprints. Included are some 18th-century Irish and English fine bindings.