Named Collections - O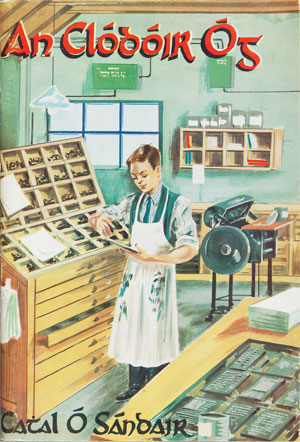 Cover of An Clódóir Óg by Cathal Ó Sándair, Dublin, 1964. Uncatalogued collection
Ó Cadhain
1,500 items approx.
This was the personal library of Máirtin Ó Cadhain, republican activist and Professor of Irish in Trinity College 1969-1970? It includes 20th-century Irish, English and continental literature and politics.
Presented 1996.
Ó Sándair
120 items.
Cathal Ó Sándair was a popular writer of children's fiction in Irish in the 1950s and 1960s. This is his collection of his own works.
Purchased 1995.
O'Sullivan
2,340 items approx.
This was the personal library of William O'Sullivan, Keeper of Manuscripts, the Library of Trinity College Dublin. It was a working library of modern books but there are some 19th-century editions.
Presented 2001.
Ordnance Survey
920 items.
This collection contains books and pamphlets from the 18th to 20th centuries relating to land surveying and Irish economics and politics. It was formerly housed at Mountjoy Barracks, Phoenix Park, Dublin.
Presented 1998.
Otway-Ruthven
450 items.
This is a selection of 18th- to 20th-century books from the collection of A.J. Otway-Ruthven, Fellow of TCD 1968, Lecky Professor of History 1951-1980.
Bequeathed 1989.