Named Collections - G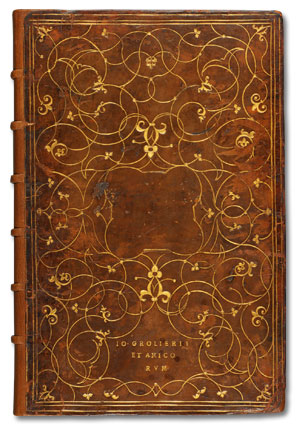 Binding of De Bello Sacro Continuatæ Historiæ… by Johannes Herold, Basel, 1560. From the Gilbert Collection. Press C.5.6a
Gallagher
116 items.
Many of these Irish political pamphlets dating from the 1920s to 1950s were written by Frank Gallagher in his capacity as speechwriter to Eamon De Valera.
Purchased 1986.
Gilbert
13,000 items approx.
These works, collected by Claudius Gilbert, Fellow of Trinity College Dublin 1693, Vice-Provost 1717-1738, cover French and British political history, classical literature and science.
Bequeathed 1743.
Glucksmann
750 items.
This collection of French political caricatures covers the period 1798-1830. It was assembled in the 1830s and was later in the possession of the Barons Hottinguer. More than 300 of the caricatures deal with Napoleon.
Presented 2004.
Grosart
40 items
This small collection, mainly of theological books, includes several by A.B. Grosart.
Presented by D.McDowall Grosart, 1928.