Named Collections - F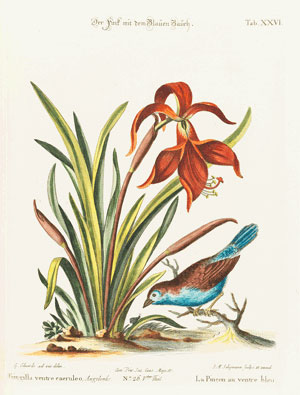 Illustration from Seligmann's Sammlung Verschiedener Auslandischer und Seitener Vögel, Nuremberg, 1749. GG.3.13-15
Fagel
20,000 items approx.
These works were collected over a period of a century and a half by several generations of the Fagel family, many of whom held high public office in the province of Holland. It is enormously rich in French, Dutch and English works on politics, religion, economics, sciences, natural history and travel, and reflects the professional concerns of the family. There are good holdings of atlases and maps.
Purchased for the Library 1802.
French
350 items.
Frances-Jane French's collecting interests were in 20th-century Irish bibliography, especially of J. M. Synge and the Maunsell Press, and genealogy. This collection contains much Maunsell material, a number of editions of J.M. Synge and some Irish political material.
Presented by her executors, Iona Pratt and Wendy Nish, 2003.
Freyer Dolmen Press Collection
446 items.
These Dolmen Press imprints, in a large variety of issues and variants, were collected by Michael Freyer between 1951 and 1973 (the printing press was in operation from 1951 to 1979). Included are some proofs, a complete set of ballad sheets, greetings cards, postcards, prospectuses, posters, exhibition catalogues and theatre programmes. There are approx. 345 Dolmen Press publications and 100 private printings.
Purchased 1979 to augment an extensive run of Dolmen Press publications already acquired.