Named Collections - B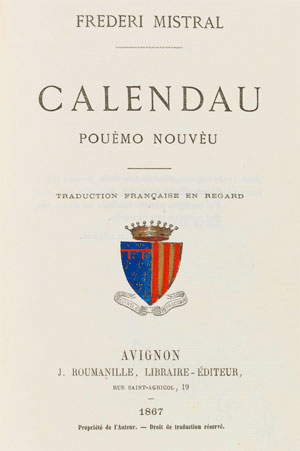 Titlepage of Mistral's Calendau..., Avignon, 1867. B-W 287
Ball
219 items approx.
These volumes of pamphlets were collected by John Thomas Ball, 1815-1898, Lord Chancellor of Ireland. They cover mid to late19th-century Irish legal, religious and educational topics.
Presented by F.E. Ball.
Bender
495 volumes approx.
This collection contains works published by private presses in California mostly from 1920 to 1940. It has books from the Grabhorn, Helen Gentry, John Henry Nash, Primavera and Windsor Presses.
Presented by Albert M. Bender in memory of his father, Philip Bender, between 1932 and 1941.
Bonaparte-Wyse
1,250 items approx.
This collection previously formed part of the library of William Charles Bonaparte-Wyse, of Co. Waterford, grand-nephew of Napoleon I. It consists almost entirely of Provençall and Catalan literature from the second half of the 19th century. Many of the works were given to the collector by the authors and there are over forty works by Bonaparte-Wyse himself.
Transferred from the French Department to the Library in 1969.
Bole
600 items.
This collection contains editions of works by Oliver Goldsmith, man of letters and a Trinity College Dublin graduate. It was assembled by Alfred Bole in the second half of the 20th century. It is very strong in early British Isles editions and there are numerous American and foreign language editions.
Purchased 2003.
Barry Brown
420 items approx.
This is a collection of plays, largely printed in Ireland during the 18th century but with some 17th-century works. It includes numerous volumes originally owned by the dramatist Kane O'Hara and the Wolfe family of Forenaughts, near Naas, Co. Dublin.
Purchased 1964.
Bushe
850 items.
This collection of pamphlets deals with Irish political, legal and economic affairs in the late 18th and early 19th centuries. Many volumes have the bookplate of Charles Kendal Bushe, Lord Chief Justice of Ireland 1822-1841.
Presented 1922.
Butler
1,239 items.
This is predominantly the library of Theophilus Butler, d.1723, Baron Newtownbutler, who was collecting in both Ireland and Great Britain. It also includes some books which belonged to his heirs. There is a concentration on late 17th- and early 18th-century politics, poetry and plays. Also included are some volumes of newspapers.
Presented approx. 1786.