Save the Treasures of the Long Room
Since 2004, there has been a continuously running preservation project in the Old Library known as Save the Treasures of the Long Room. The aim of the project is to help address some of the challenges and problems affecting the early printed books in the Long Room. These are caused by their age (spanning six centuries) and their materials, as well as the effects of the environment in building.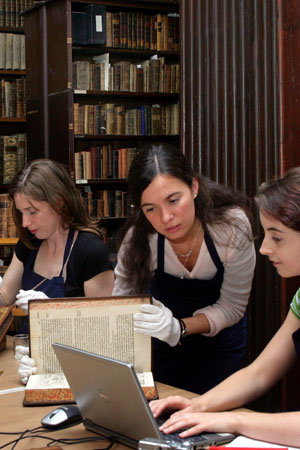 Save the Treasures of the Long Room
The work is carried out by teams of Preservation Assistants, who are trained and supervised by a Conservator. The teams comprise full time staff, employed on one-year contracts. Candidates come from all over the world and a variety of backgrounds including Library and Archive Studies, Archaeology, History of Art, History and Conservation.
The tasks carried out include:
The removal of dirt from books and shelves with the use of vacuum cleaners fitted with HEPA (High Efficiency Particulate Air) filters, and low-pressure vacuum tables
The application of a leather consolidant (Klucel G) to degraded leather
Minor in-situ stabilising repairs, including the consolidation of delaminated leather, and hinging-on of detached spine pieces
Tying-up detached boards with unbleached cotton tape.
The fabrication of custom-made enclosures for fragile items.
Recording the condition, structure, and treatment of each book in a database
In 2008 work started on collections on the gallery level of the Long Room with 13,000 books on lower perimeter shelves treated by early 2009. By mid-2009, 62,838 books on the north side of the Long Room books had been cleaned. The estimated total number of books in the Long Room is 200,000.
A donation of €50 will enable us to treat five of our rare and precious early printed books, and a gift of €250 will enable us to treat an entire shelf of books. Click below to donate - enter "Save the Treasures" on that page as the specific area you would like to help.