Strategic Staff Planning
The university has an ambitious strategic plan and Trinity people are the key to delivering the goals.
To achieve our ambitions, we need to have the right people in the right positions at the right time.
Strategic staff planning will set out the staffing blueprint that we need to run the university today and prepare for the university we want to become for the future.
Staff Planning takes time, and we are at the beginning of the process.
Planning Group has agreed a two-pronged approach as follows:
2022: Tactical short-term staff planning
2023 onwards: Comprehensive strategic staff planning
This presentation provides the context.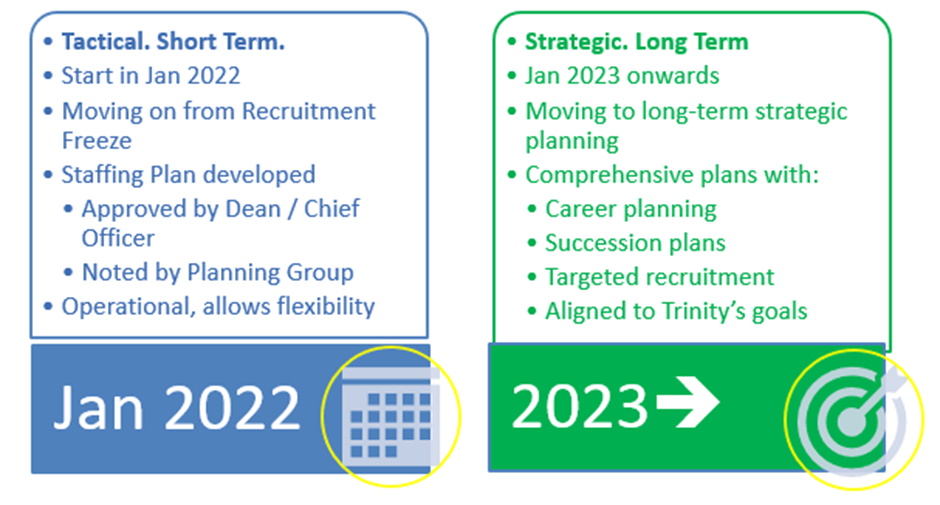 Tactical Short-term planning for 2022:
1: What is it?
The objective is to prepare a high-level staffing plan for each School / Unit which sets out the approved posts for the coming 12 months.
2: Who is involved?
A planning team in each School or Unit prepares the plan
Schools: Head of School, HR Partner, Finance Partner, School Administration Manager,
Divisions: Head of Function, HR Partner, Finance Partner, Manager of sub-unit.
3: How is the planning carried out?
The planning team review a list of all current posts in the area, any posts in recruitment and  any posts in the approval stage.
The posts are categorised based on a range of factors including the projected duration of the post e.g. ongoing, fixed term, project based; the funding source and budget; the nature of the work.
The plan will identify the resources required to operate during for the next 12-18 months.
4. When will this take place?
The Planning teams will meet in early 2022, with the aim of submitting plans to Planning Group Plans for noting:
Divisions: January onwards
Faculties: February onwards
5. Why is the university doing this now?
Planning for resources upfront will save time later. This approach removes the need for the Recruitment Sub-Committee.
This tactical staff planning is a step towards comprehensive strategic staff planning which will follow in 2023.
Toolkit
1: School Reports – available monthly
2: List of Posts in Recruitment and Posts in approval – available through HR Partners
3: FAQs