Irish Sign Language Translations of HR information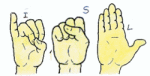 The HR team are committed to the College's accessible information policy. We are working on our documents to ensure they are fully accessible. We have asked an ISL interpreter, with the assistance of the Disability Office, to translate some helpful information.
We now have five short ISL videos on the following topics : General welcome to HR website, HR general policies information, HR recruitment policies, HR leave policies and the HR grievance procedure.
Please note: these videos work on Mozilla Firefox and Google Chrome. If they do not launch from Internet Explorer, please try a different browser.
These are also in the appropriate sections on the website. Take the time to view and please feed back to us if you find these helpful.
Please see our webpages on disability and equality of opportunity.
Further information from or comments to Employee Relations.