Healthcare Infection (M.Sc.)
1 year full-time/2 years part-time
Overview
In the modern healthcare setting, the effective management of infection invokes the skills and expertise of a wide range of medically and scientifically qualified professionals. A comprehensive understanding of the principles and practice of infection control and epidemiology is essential for the effective management of healthcare infection. The MSc/ PGradDip in Healthcare Infection is a new postgraduate qualification that is offered by the Department of Clinical Microbiology, Trinity College Dublin to meet the need for a multi-disciplinary approach to modern healthcare infection control. The course provides specialist teaching that is delivered in conjunction with partner organisations including St. James's Hospital, Tallaght University Hospital and the Health Service Executive. The course is offered to nurses, pharmacists, physicians, microbiologists, biomedical scientists, infection control specialists and public health workers. It is delivered using a combination of interactive lectures and seminars as well as laboratory demonstrations and discussion workshops.
Contact teaching is delivered in 4 taught modules and MSc students will also undertake a laboratory research project, module 5, on a subject relevant to contemporary infection control objectives (P.Grad.Dip. students will not carry out a research project).
The MSc in Healthcare Infection is offered as a 1-year full-time degree, or as a 2-year part-time degree. The PGradDip in Healthcare Infection is offered only as a 1-year full-time degree.
If you have any questions, please feel free to contact us - Email: renwickj@tcd.ie
Programme learning objectives:
The MSc/ PGradDip in Healthcare Infection aims to provide graduates with a comprehensive understanding of the multiple disciplines that must align to deliver effective control of human pathogens in the hospital and community settings. The course will provide foundation and advanced knowledge on the monitoring, prevention, diagnosis, and treatment of infectious diseases. There will also be a laboratory-based project for MSc students that will enable students to acquire new laboratory skills and perform research on a topic that is relevant to contemporary healthcare. At the end of the course graduates will be equipped with the knowledge to determine the correct approach and appropriate tools for managing healthcare infections.


Module learning outcomes:
Module 5 tab to read 'Module 5 (MSc students only)'

Course timetable outline (2021-2022 dates):

All below dates are provisional and subject to change.

Module 1: Basic and Molecular Microbiology (CM7001-A-Y-202122)
Week 1: 20th -24th Oct 2021
Week 2: 4th - 8th Oct 2021
Exam: 100% continual assessment

Module 2: Antimicrobial Therapy & Resistance (CM7003-A-Y-202122)
Week 1: 25th - 29th Oct 2021
Week 2: 8th- 12th Nov 2021
Exam: 100% continual assessment

Module 3: Epidemiology & Infection Control (CM7002-A-Y-202122)
Week 1: 29th Nov- 3rd Dec 2021
Week 2: 13th - 17th Dec 2021
Exam: 100% continual assessment

Module 4: Multidisciplinary Management of Infection (CM7004-A-Y-202122)
Week 1: 11th - 15th Jan 2022
Week 2: 25th - 29th Jan 2022
Exam: 100% continual assessment

Module 5: Research Project (CM7005-A-Y-202122)
Lab work starts: 15th Feb 2022
Lab work ends: 7th May 2022
Thesis submission: 1st Jun 2022
Click Here for further information on modules/subject.

Why study this course?
The MSc/ PGradDip in Healthcare Infection is a multi-disciplinary qualification which is primarily designed to support healthcare professionals or graduates. Our students often have backgrounds in medicine, pharmacy and nursing, and are currently in employment in these fields. The MSc is an opportunity to enhance skills and knowledge applicable to infection control. Following the introduction of the 1-year full-time option for the 2012/2013 academic year, the MSc now caters for students who have undertaken full-time undergraduate studies in one of the Biomedical or Health Sciences and who wish to enter full-time postgraduate study in the area of healthcare infection. Past students from Biomedical and Health Science backgrounds have pursued careers in research, industry and surveillance. Additionally Biomedical scientists have used this MSc to gain fellowship of the Academy of Clinical Science and Laboratory Medicine (ACSLM).
The MSc in Healthcare Infection is a postgraduate qualification that is offered by the School of Medicine, Trinity College Dublin, to meet the need for a multi-disciplinary approach to modern healthcare infection control.
Course Details
Number of Places
15 Places
Next Intake
September 2022
Course Coordinator
Dr. Julie Renwick
Course Director
Professor Stephen Smith
Closing Date
30th June 2022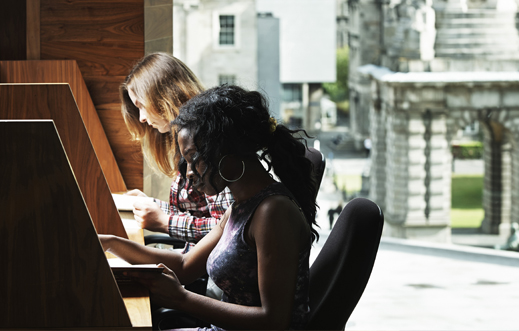 Admission Requirements
Applications will normally be received from those who hold one of the following qualifications:
A medical degree
An honors degree in Biomedical Sciences, Nursing, Pharmacy, or Microbiology
An honors degree in another relevant science subject
Applications may also be received from individuals with a minimum of three years of relevant healthcare experience and suitable qualifications. Note, a 2.1 grade or equivalent must be achieved in nay undergraduate degree to qualify for admission to this course. Applicants meeting these requirements may be required to attend for interview.
English Language requirements
All applicants whose first language is not English and who have not been educated through the medium of English must present a qualification in English Language e.g. IELTS: Grade 6.5 overall (no band grade below 6.0) www.ielts.org (Please note that test scores are only valid for two years).
For further details on the English Language Proficiency Test acceptable by TCD please see https://www.tcd.ie/courses/postgraduate/how-to-apply/requirements/international.php
Course Fees
Click here for a full list of postgraduate fees
Apply
To apply, click on the relevant Apply Link below
Get in Touch
Telephone Number
+353 1 8963791
Email
renwickj@tcd.ie
Steve.Smith@tcd.ie
Register Your Interest
Register your interest in postgraduate study at Trinity College Dublin, the University of Dublin.
As Ireland's leading university, we offer a wide range of postgraduate programmes at masters, diploma and certificate level.
Trinity is an international university steeped in history, with a reputation for excellence in education, research and innovation.