Overview
This programme is designed for non-business graduates who want to gain the business acumen, management knowledge and skills necessary to succeed in today's increasingly digitized and globally connected business environment. This conversion programme offers a wide and diverse range of subjects and upon successful completion of the programme, graduates should be well positioned to gain employment within any organisational or business context.
Delivered through a mix of interactive discussion, expert industry speakers and case studies, you will learn to critically analyse real strategic business issues, manage conflict and your personal leadership style. You will also learn from a diverse class of students from different locations and academic backgrounds, including arts, law, science, engineering and medicine.
Course Structure
This MSc. course is 90 credits delivered over one academic year. The taught component comprises modules totalling 60 credits. Students also complete a substantial research project, which accounts for a further 30 credits, to be eligible for consideration for the award of the degree.
Modules*
• Project Management
• Implementing Marketing; Theories & Practices
• Strategic Management
• Operations Management
• Financial Management
• Human Resource Management
• Entrepreneurship
• Negotiation Theory & Practice
• Research Methods
• Leading Change in a Complex World
• The Psychology of Management
• Ethical Business
* Modules subject to change
Click Here for further information on modules/subject.
Dissertation – Your research project is the culmination of your degree, allowing you to demonstrate and apply the techniques and knowledge acquired from the taught modules to a problem of real world academic or managerial concern.
Trinity Business School - More than a degree
In 2019, we opened our new state-of-the-art home, a near zero energy, six storey building that includes an innovation and entrepreneurial hub, a 600 seat auditorium, smart classrooms and the latest digital technology; and it remains in the heart of Trinity's campus. We bring in class learning to life with our strong emphasis on experiential learning through the use of case studies, teamwork and professional development modules. The competencies developed here are what employers continually endorse as a much-valued feature of our graduates.
Our dedicated career development team will help you identify your ideal career path and provide tailored advice on how best to achieve your goals. They offer a range of services including:
Advertise graduate vacancies and host job fairs for business students
Career classes on topics such as CVs, interviews & work permits
Career guidance tools to help you identify your career interests
Individual career meetings to discuss your personal career needs
IMPORTANT - We advise students to apply for this programme as early as possible as admission to the course will be very competitive. The programme is subject to early closure as a result.
Study Management (M.Sc.) at Trinity
Introduction to the programme MSc in Management by Professor Natasha Evers of the Business School at Trinity College Dublin
Course Details
Next Intake
September 2022
Course Director
Closing Date
31st July 2022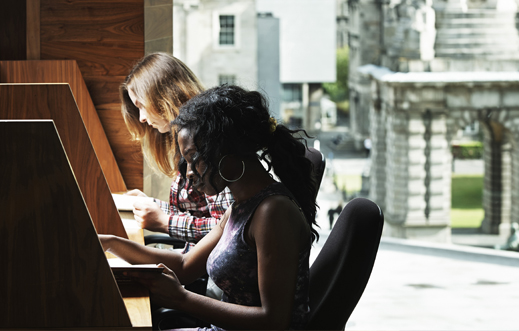 Get in Touch
Telephone Number
+353-1-896 2338
Email
Website
https://www.tcd.ie/business/msc/management/
Register Your Interest
Register your interest in postgraduate study at Trinity College Dublin, the University of Dublin.
As Ireland's leading university, we offer a wide range of postgraduate programmes at masters, diploma and certificate level.
Trinity is an international university steeped in history, with a reputation for excellence in education, research and innovation.
Testimonials
---
Thulisa Nyathela, Graduate MSc in Management Graduate
"The MSc Management course was a pleasant surprise to me. The selection of taught modules was excellent in helping me find my passion as well as give me the confidence of knowing that there isn't anything I cannot learn. With a background in international relations, history and business, the course certainly broadened my horizons in terms of future prospects. I particularly enjoyed the process of completing my dissertation in strategic management, a subject that was completely new to me. What truly stood out in my learning experience was having industry professionals visit us in class, bringing theory to life. I am currently on a summer internship with the Cornmarket Group Financial Services. With my Trinity Masters, I have had several Tech Companies in Dublin reach out to me via LinkedIn for a variety of roles! My personal statement while applying at TBS had said: "I want to be educated for life within a safe and caring environment that will challenge me to realise my full potential". I can confidently say I did that!"