Digital Marketing Strategy (M.Sc)
Overview
The MSc in Digital Marketing Strategy is designed to provide you with the knowledge and tools required to become a highly skilled digital marketing strategist. You will learn about digital design, the user experience and how to plan and implement digital strategies.
We focus on how different companies do business in a digital world, coupled with a strong industry and partnership approach. A variety of leading digital companies are represented by expert guest speakers and faculty, including multinational companies such as Google, Facebook, Twitter, HubSpot and Microsoft. Learn how to master specific platforms such as Google Ads, Analytics, Facebook Insights and HubSpot tools.
Course Structure
This MSc. course is 90 credits delivered over one academic year. The taught component comprises modules totalling 60 credits. Students also complete a substantial research project, which accounts for a further 30 credits, to be eligible for consideration for the award of the degree.
CORE MODULES*
• Digital Design & User Experience
• Digital Marketing Implementation
• Data Analytics & Market Research
• Digital Marketing Communication
• Emerging Trends in Digital Technologies
• Social Media Marketing
• Digital Marketing Strategy
• Ethical Business for Digital Marketing
• Digital Analytics
• Research Methods
Electives *
Digital Business Models, E-Commerce, Consumer Value Management, Innovation Leadership, English for Academic Purposes
* Modules subject to change
Dissertation – Your research project is the culmination of your degree, allowing you to demonstrate and apply the techniques and knowledge acquired from the taught modules to a problem of real world academic or managerial concern.
Click Here for further information on modules/subject.
Trinity Business School - More than a degree
In 2019, we opened our new state-of-the-art home, a near zero energy, six storey building that includes an innovation and entrepreneurial hub, a 600 seat auditorium, smart classrooms and the latest digital technology; and it remains in the heart of Trinity's campus. We bring in class learning to life with our strong emphasis on experiential learning through the use of case studies, teamwork and professional development modules. The competencies developed here are what employers continually endorse as a much-valued feature of our graduates.
Our dedicated career development team will help you identify your ideal career path and provide tailored advice on how best to achieve your goals. They offer a range of services including:
Advertise graduate vacancies and host job fairs for business students.
Career classes on topics such as CVs, interviews & work permits
Career guidance tools to help you identify your career interests
Individual career meetings to discuss your personal career needs
IMPORTANT - We advise students to apply for this programme as early as possible as admission to the course is very competitive. The programme is subject to early closure as a result.
Study Digital Marketing Strategy (M.Sc.) at Trinity
This short video details why you should consider doing a Masters in Digital Marketing Strategy at Trinity Business School.
Course Details
Next Intake
September 2022
Course Director
Professor Laurent Muzellec
Closing Date
31st July 2022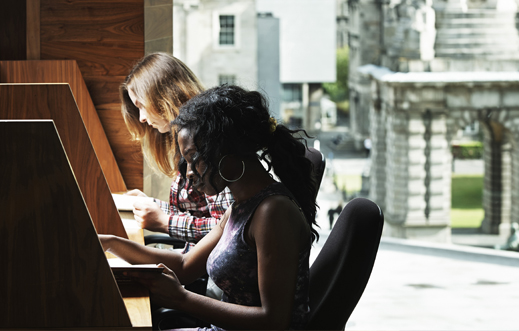 Apply
To apply, click on the relevant Apply Link below
Get in Touch
Telephone Number
+353-1-896 4232
Email
Website
www.tcd.ie/business/msc/digital-marketing-strategy/
Register Your Interest
Register your interest in postgraduate study at Trinity College Dublin, the University of Dublin.
As Ireland's leading university, we offer a wide range of postgraduate programmes at masters, diploma and certificate level.
Trinity is an international university steeped in history, with a reputation for excellence in education, research and innovation.
Testimonials
---
Gökçe Sönmez, MSc in Digital Marketing Strategy Graduate
"My time in Trinity Business School was a challenging and wonderful experience. I would recommend this Masters to any business student who has a keen interest in the areas of marketing and digital marketing. This Masters in Digital Marketing provided me with both theoretical knowledge and practical experience. Incoming students may find this programme challenging and demanding at first, but they will realize that having many group projects and individual assignments will provide them with valuable experience which will stand to them throughout their entire career. Trinity College is a reputable and highly recognised university across the world. International experience with students from all around the world is another important aspect of this programme.
The course instructors are highly qualified in their field. I found that each lecture provided me with great insights into each subject. I also certified in Google AdWords and Analytics while completing my masters. I am now working in digital media and these both are very useful for me."