Sustainable Development for Business (P.Grad. Cert.)
Overview
Course Overview
Momentum towards a sustainable business model is a high priority on all top performing business agendas. This course addresses the increasing pressure organisations and their decision makers are under to balance environmental and societal impacts with maintaining competitive advantage and profitability
This shift in focus, when done strategically, can align a business closer to customers, investor demands, market trends and emerging regulatory requirements and create a competitive advantage in a sustainability conscious society. Designed to tackle the increasing need for sustainable business transformation, participants completing the programme will be equipped with the tools to create long-lasting change throughout their organisation
A key feature of the programme is an action learning module where participants design a sustainability project for their employer organisation, their business or for a project partner organisation where a "blueprint" for implementation is developed.
This course provides participants with the knowledge and tools to address important sustainability challenges by becoming purpose-driven business leaders, understanding the wider socio-economic impact of their business, and the skills to develop smart strategies for implementing sustainable business. In addition, this course seeks to promote increased dialogue between leaders in business, government, academia, and NGOs to work towards a zero-carbon economy and to deliver on the United Nations' Sustainable Development Goals.
Is This Course For Me?
This programme is designed for:
Mid-level and senior executives from across the private sector, public sector and third sector looking to examine their organisations' impact on society as well as the environment, and gain a firm understanding of how they can drive competitive advantage through a sustainable business model.
Experienced managers in diverse functions – including CSR and sustainability, legal and compliance, procurement, operations and external affairs
Recently promoted executives who are facing new leadership challenges in the area of sustainability.
Career Opportunities
This course allows executives to examine their organisation's environmental and societal impact, and gain an understanding of how they can impact real environment change within their own organisations. This course tackles the increasing need for sustainable strategy in business by giving participants the tools to create long-lasting change in their organisations.
Course Structure
This Postgraduate Certificate programme is 30 credits delivered over a 10-month period.
The first module is delivered online in September and October. The other four modules are delivered over a series of workshops (three per module) held on a Thursday evening and all day Friday, once a month, to minimise interference with busy work schedules
Course Content
The programme has five modules delivered over two twelve-week semesters within a 10-month period: The Sustainable Green Organisation, Sustainability Measurement and Reporting, A Practical Toolkit for Sustainable Business, Purpose-Driven Systemic Change, Sustainability in Action Project.
Participants are assessed on a module-by-module basis through a variety of practical assignments combining group work and individual work.
The emphasis throughout the programme is focused on the practical application of knowledge to benefit the participant, their team and their organisation. The programme culminates in an action learning project where participants will work to blueprint a sustainable business project within their organisation or a participating project company
Click here for further information on modules/subject.
Study Sustainable Development for Business (P.Grad.Cert.) at Trinity
The postgraduate programme in Sustainable Development for Business is for mid-level executives and above from all sectors looking to examine their organisation's impact on society as well as the environment and gain a firm understanding of how they can impact real environment change.
Course Details
Awards
NFQ Level 9
Number of Places
10-40 Places
Next Intake
September 2024
Course Coordinator
Maria Merriman
Course Director
Professor Maximilian Schormair
Closing Date
31st July 2024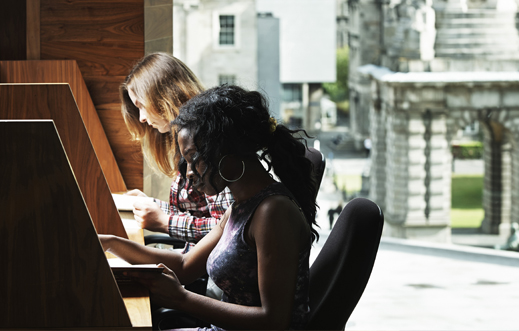 Admission Requirements
The programme is open to graduates with a degree (or equivalent) and a strong academic record in any discipline from a recognised third level institution. Applicants without a degree are welcome to apply provided they can show a proven managerial track record. All applicants are required to have a minimum of three years professional or managerial work experience.
All applicants should provide two references confirming their programme eligibility which, together with the applicant's academic performance during their undergraduate years and their CV, will be used to select the most suitable candidates. Telephone interviews may be conducted to clarify applicants' motivation and interest in the programme.
Language requirements for students whose first language is not English are an IELTS score of 6.5 or TOEFL IBT 90 for non-native English speakers. In case of heavy competition for places or concern regarding a particular applicant's suitability, applicants may be interviewed or asked to submit an additional written sample for assessment.
Course Fees
Click here for a full list of postgraduate fees
Apply
To apply, click on the relevant Apply Link below
Get in Touch
Email
Website
www.tcd.ie/business/executive-education/ sustainable-development-for-business.php
Register Your Interest
Register your interest in postgraduate study at Trinity College Dublin, the University of Dublin.
As Ireland's leading university, we offer a wide range of postgraduate programmes at masters, diploma and certificate level.
Trinity is an international university steeped in history, with a reputation for excellence in education, research and innovation.
Testimonials
I loved every bit of this course! It has given me real insight into the multi-faceted business risks posed by climate change in business today, with a focus on how to apply those learnings to drive real value and organisational change.

Graduate and Enterprise Account Director, Amazon Web Services (AWS)