International Management (M.Sc.)
Overview
Further information on the Masters in International Management programme can be found on the Trinity Business School Website

Programme Overview
This programme is specifically designed for business graduates who wish to pursue an international career or work in organisations that target global markets. The intensive programme equips you with the knowledge and practical skills to operate within the global business environment and the cultural acumen to communicate and negotiate in different cultures and markets.

Course Structure
This MSc. course is 90 credits delivered over one academic year. The taught component comprises modules totalling 60 credits. Students also complete a business plan or company research project, which accounts for a further 30 credits, to be eligible for consideration for the award of the degree.

The full list of modules offered on the programme can be found here.

Trinity Business School - More than a degree
We are a globally-renowned, triple-accredited business school delivering an ultra-modern educational experience and innovative research from the heart of Dublin's thriving capital city. At Trinity Business School, we offer programmes that will push you to reach your full potential. Immerse yourself in the latest business theory and practice, unlock powerful alumni and career networks, and accelerate your career prospects and success.
We aim to produce graduates who will become future change-makers and who seek to shape and transform business for good.

Career Opportunities
Our dedicated career support team will help you to identify your ideal career path and provide tailored advice on how to achieve your career goals. Through workshops, one-to-one coaching, career psychometric tests, and visits from top global employers, students are introduced to our vast portfolio of company recruiters.
This programme is an excellent foundation for an international career working across many industries including technology, consulting, financial services and media. Recent employers include Google, Deloitte, LinkedIn, KPMG and Accenture.
Study International Management (M.Sc.) at Trinity
Introduction to the programme MSc in International Management by Dr. Sinéad Monaghan of the Business School at Trinity College Dublin
Course Details
Next Intake
September 2023
Course Director
Sinéad Monaghan
Closing Date
31st July 2023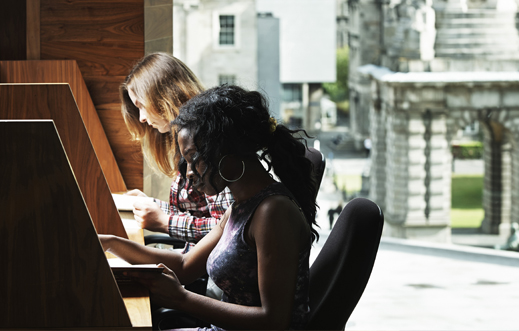 Apply
To apply, click on the relevant Apply Link below
Get in Touch
Telephone Number
+353 1 896 3204
Email
Website
https://www.tcd.ie/business/programmes/masters-programmes/msc-in-international-management/
Register Your Interest
Register your interest in postgraduate study at Trinity College Dublin, the University of Dublin.
As Ireland's leading university, we offer a wide range of postgraduate programmes at masters, diploma and certificate level.
Trinity is an international university steeped in history, with a reputation for excellence in education, research and innovation.
Testimonials
---
"I chose Trinity Business School's MSc International Management programme based on my interest in the challenges of an increasingly globalised world. It added a great variety of managerial expertise to my economical knowledge that I accumulated in my undergraduate studies. Furthermore, the unique atmosphere of cultural diversity within the class combined with a lecture in Shanghai expanded my awareness of the challenges to internationally operating corporations by a huge degree. Overall, I am very happy to realise that the course supported me with the exact skillset needed to perform well in my role that followed at BearingPoint, where I planned and drove forward large post-merger-integration projects as a management consultant."
Philippus von Neree
MSc in International Management Graduate