International Management (M.Sc.)
Overview
This programme is specifically designed for business graduates who wish to pursue an international career or work in organisations that target global markets. The intensive programme equips you with the knowledge and the practical skills to operate within the global business environment and the cultural acumen to communicate and negotiate in different cultures and markets.
Develop a global network of friends within the highly diverse class and experience business in a different culture via the International Residency Week. Currently the class travel to Hong Kong or the alternative international week in Spain. We deliver highly interactive lessons with opportunities to develop presentation skills, deal with real-life case studies and work in group assignments. Students are encouraged to select the trip that is most culturally different from their own background.
Course Structure
This MSc. course is 90 credits delivered over one academic year. The taught component comprises modules totalling 60 credits. Students also complete a substantial research project, which accounts for a further 30 credits, to be eligible for consideration for the award of the degree.
Core Modules *
• Cross-Cultural Management
• Global Brand Management
• International Business Strategy : Theory
• International Management in Context
• Ethical Business
• International Business Strategy : Practice
• Strategy Practice
• International Entrepreneurship
• International HRM
• Research Methods
Choose from a wide range of elective modules*
Global Social Entrepreneurship, Economics for Global Markets, International Digital Marketing, Global Supply Chain Management, Applied International Strategy, Project Management, International Trade and Business, International Marketing
* Modules subject to change
Click Here for further information on modules/subject.
International Consultancy Project: This is the cumulation of your degree. You undertake a business plan or company research project, individually or in groups, instead of the standard dissertation, allowing you to demonstrate and apply the techniques and knowledge acquired from the taught modules to a problem of real managerial concern.
Trinity Business School - More than a degree
In 2019, we opened our new state-of-the-art home, a near zero energy, six storey building that includes an innovation and entrepreneurial hub, a 600 seat auditorium, smart classrooms and the latest digital technology; and it remains in the heart of Trinity's campus. We bring in class learning to life with our strong emphasis on experiential learning through the use of case studies, teamwork and professional development modules. The competencies developed here are what employers continually endorse as a much-valued feature of our graduates.
Our dedicated career development team will help you identify your ideal career path and provide tailored advice on how best to achieve your goals. They offer a range of services including:
Advertise graduate vacancies and host job fairs for business students
Career classes on topics such as CVs, interviews & work permits
Career guidance tools to help you identify your career interests
Individual career meetings to discuss your personal career needs
IMPORTANT - We advise students to apply for this programme as early as possible as admission to the course will be very competitive. The programme is subject to early closure as a result.
Study International Management (M.Sc.) at Trinity
Introduction to the programme MSc in International Management by Dr. Sinad Monaghan of the Business School at Trinity College Dublin
Course Details
Next Intake
September 2022
Course Director
Paul Ryan
Closing Date
31st July 2022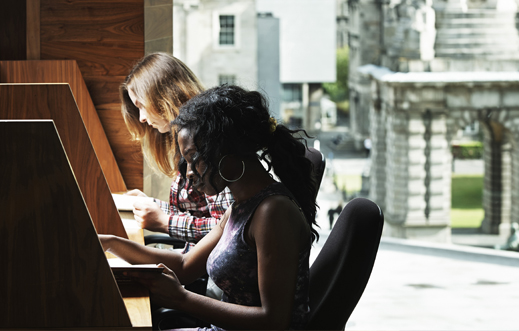 Apply
To apply, click on the relevant Apply Link below
Get in Touch
Telephone Number
+353-1-896 2338
Email
Website
https://www.tcd.ie/business//msc/intl-management/
Register Your Interest
Register your interest in postgraduate study at Trinity College Dublin, the University of Dublin.
As Ireland's leading university, we offer a wide range of postgraduate programmes at masters, diploma and certificate level.
Trinity is an international university steeped in history, with a reputation for excellence in education, research and innovation.
Testimonials
---
Philippus von Neree, Graduate MSc in International Management
"I chose Trinity Business School's MSc International Management programme based on my interest in the challenges of an increasingly globalised world. It added a great variety of managerial expertise to my economical knowledge that I accumulated in my undergraduate studies. Furthermore, the unique atmosphere of cultural diversity within the class combined with a lecture in Shanghai expanded my awareness of the challenges to internationally operating corporations by a huge degree. Overall, I am very happy to realise that the course supported me with the exact skillset needed to perform well in my role that followed at BearingPoint, where I planned and drove forward large post-merger-integration projects as a management consultant."