Human Resource Management (M.Sc.)
Overview
Designed for students from all disciplines, this programme has been fully accredited by CIPD, HR Certification Institute, and is fully aligned with the Society for Human Resource Management. You will gain the specialist knowledge and practice-based ability that are vital in the world of human resources and business performance.
This is the only programme in Ireland that is accredited and aligned with the three largest HR bodies globally and one of few globally to include HR analytics, which was recently introduced to meet industry demands. The programme is research-led, evidence-based and practice-driven. Senior practitioners from industry teach on the programme to offer you a strong combination between research and practice. You will also go beyond the classroom and learn in real organisations via the Human Resource Management in Practice module. Focusing on key themes such as organisational business strategy, innovation and growth, strategic decision making and diversity and inclusion management, you will develop your professional skills including communication, negotiation and ethics.
Course Structure
This MSc. course is 90 credits delivered over one academic year. The taught component comprises modules totalling 60 credits. Students also complete a substantial research project, which accounts for a further 30 credits, to be eligible for consideration for the award of the degree.
Modules *
• Human Resource Management
• Organisation Design and Development
• Learning & Development
• Strategic & International HRM
• Researching HRM
• HR Digitalisation & Analytics
• Performance & Rewards Management
• Managing Employment Relations
• Developing Skills for Business Leadership
• Managing Diversity in Organisations
• Business Ethics & Society
* Modules subject to change
Click Here for further information on modules/subject.
Dissertation – Your research project is the culmination of your degree, allowing you to demonstrate and apply the techniques and knowledge acquired from the taught modules to a problem of real world academic or managerial concern.
Trinity Business School - More than a degree
In 2019, we opened our new state-of-the-art home, a near zero energy, six storey building that includes an innovation and entrepreneurial hub, a 600 seat auditorium, smart classrooms and the latest digital technology; and it remains in the heart of Trinity's campus. We bring in class learning to life with our strong emphasis on experiential learning through the use of case studies, teamwork and professional development modules. The competencies developed here are what employers continually endorse as a much-valued feature of our graduates.
Our dedicated career development team will help you identify your ideal career path and provide tailored advice on how best to achieve your goals. They offer a range of services including:
Advertise graduate vacancies and host job fairs for business students
Career classes on topics such as CVs, interviews & work permits
Career guidance tools to help you identify your career interests
Individual career meetings to discuss your personal career needs
IMPORTANT - We advise students to apply for this programme as early as possible as admission to the course will be very competitive. The programme is subject to early closure as a result
Study Human Resource Management (M.Sc.) at Trinity
Introduction to the programme MSc in Human Resource Management by Dr. Wladislaw Rivkin of the Business School at Trinity College Dublin
Course Details
Next Intake
September 2022
Course Director
Professor Na Fu
Closing Date
31st July 2022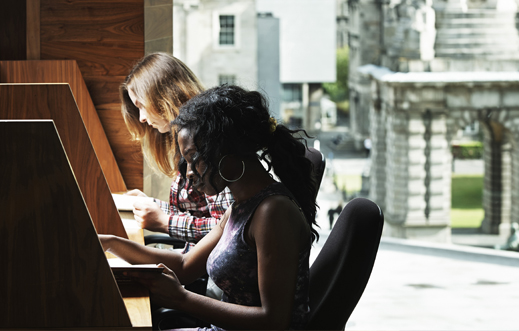 Apply
To apply, click on the relevant Apply Link below
Get in Touch
Telephone Number
353-1-896 3204
Email
Register Your Interest
Register your interest in postgraduate study at Trinity College Dublin, the University of Dublin.
As Ireland's leading university, we offer a wide range of postgraduate programmes at masters, diploma and certificate level.
Trinity is an international university steeped in history, with a reputation for excellence in education, research and innovation.
Testimonials
---
Darren Shawn Vermaak, Graduate MSc in Human Resource Management

" I had the unique privilege to enrol in the M.Sc. HRM programme at Trinity Business School. Trinity Business School is one of the most prestigious and globally recognised business schools in the world. The M.Sc. HRM programme offered me many opportunities to develop my intellectual knowledge on the corporate world. My overall study experience at Trinity Business School was greatly influenced by how international the school's community is. I had the honour of meeting like-minded intellectual students from different countries who also strive to develop their academic knowledge. I noted that our class was a huge asset during seminars and discussions because of our diverse backgrounds. In addition, the university is seriously focused on helping students get where they want to go after they graduate. The career service is excellent, and if a student is interested in academia, all the professors are willing to help with giving advice on how to start an academic career. The highlight of the programme for me was to visit and network with international companies like Grant Thornton and Microsoft. Our course offers an opportunity for students to tour esteemed companies and work together in teams on company projects. We also gained first-hand knowledge from leading HR professionals on modern HR trends. The world is resilient. But so are Trinity students."