International Politics (M.Sc. / P.Grad.Dip.)
1 year full-time / 2 years part-time
Overview
The MSc in International Politics is a one year full-time (two year part-time) course which enables students to develop the abilities to assess the major theories of international relations and to formulate policy relevant research questions in the field. Students will learn to design and conduct their own research using relevant social scientific theories and methods. They will also develop the skills to communicate research effectively in a variety of forms. Students take four compulsory modules, four elective modules and write a 10,000 word dissertation.
• International Politics
• International Conflict
• Research Design
• Introduction to Quantitative Research Methods
The elective modules on offer vary from year to year. In 2022-23, these included:
• Government and Politics of the EU
• The Political Economy of International Development
• Russian Politics under Putin
• Interviews in Political Science
• Great Power Politics
• Middle Eastern Politics
• Global Justice
• European Union Policy Making
• State and Society in the Developing World
• Varieties of Authoritarianism
• Economic Inequality and Democracy
• Political Illiberalism
Click here for further information on the taught modules - https://www.tcd.ie/Political_Science/programmes/postgraduate/msc-international-politics/course-content
Career Opportunities
You will develop the necessary skills for a range of research-related careers in the fields of applied policy research, business, government, law, media, international aid, and international governmental and non-governmental organizations as well as a solid foundation for research PhDs.
For further information on modules/subject - https://www.tcd.ie/Political_Science/programmes/postgraduate/msc-international-politics/course-content/
Study International Politics (M.Sc.) at Trinity
A presentation about the International Politics M.Sc. Course at TCD, by Dr. Peter Stone at the Postgraduate Open Day.
Course Details
Next Intake
September 2023
Course Director
Dr. Noah Buckley
Closing Date
31st July 2023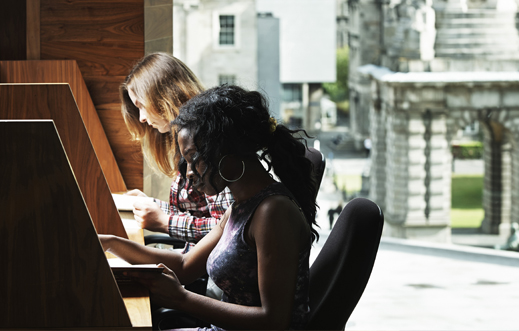 Admission Requirements
Candidates should normally have achieved an upper second class honour degree or higher from an established university. GPA scores of at least 3.3 out of 4, or equivalent, will be expected from international applicants. A background in a social science will be an advantage but not a necessity. Applications are expected from candidates with a single or joint honours degree in Political Science, Economics, European Studies, History, Sociology, Business and Law.
Course Fees
Click here for a full list of postgraduate fees.
Apply
To apply, click on the relevant Apply Link below
Get in Touch
Email
Website
https://www.tcd.ie/Political_Science/programmes/postgraduate/msc-international-politics/
Register Your Interest
Register your interest in postgraduate study at Trinity College Dublin, the University of Dublin.
As Ireland's leading university, we offer a wide range of postgraduate programmes at masters, diploma and certificate level.
Trinity is an international university steeped in history, with a reputation for excellence in education, research and innovation.
Testimonials
---
"The politics masters program at Trinity is one of a kind. The curriculum is thoughtfully designed. It progresses logically—first, with classes that have a familiar feel to undergraduate work, and eventually, to the fundamentals of social sciences research design and finally to producing original research independently. Trinity's campus location in Dublin could not be better.
One of the more remarkable aspects of the experience was the minimal turbulence in a time clouded by Covid-19. Our seminars transitioned from the classroom to Zoom during the year but remained just as focused and productive—a testament to the advanced planning of the TCD staff. The students in the class of 2021 were a resilient and collaborative squad, and the faculty deserve praise for their agility (and patience). And, not to be overlooked, Irish students in the course totally outdid themselves with their efforts to introduce international students to all parts of the local culture."
Conor McKinnon
Graduate