Economics (M.Sc. / P.Grad.Dip.)
1 year full-time / 2 years part-time
Overview
This course in Economics leads to the award of a Master in Science (Economics) (M.Sc. (Econ)). The objective of the course is to provide well-qualified graduates in economics and related disciplines with the training required to work as economists in the public, private and non-profit sectors or to enter Ph.D. programmes in economics. The course focuses on the technical skills needed to undertake economic research and emphasises active and problem-based learning to ensure mastery of the required skills.
The course has two strands. The first is a general entry strand and the second is a strand that focuses on International Development. While the required mix of modules varies across the two, the structure and timing of both is the same and both lead to an M.Sc. (Econ) qualification.
Both strands are available on a full-time or part-time basis. The full-time course takes one year, while the part-time course runs over two academic years. All students on all strands must take an intensive preliminary course in mathematics and statistics at the start of the first semester, while the second semester starts with a Research Methods course.
The MSc programme is structured around the following components:

1. An intensive mathematics and statistics module at the start of Semester 1, which is compulsory for all students.
2. Six taught four-week modules in Semester 1: Econometrics modules are required for all students.
3. A Research Topics module at the start of Semester 2, which is compulsory for all students.
4. Six taught four-week modules in Semester 2: Econometrics modules are required for all students.
5. The research-based dissertation, due in late June, allows students to showcase the knowledge they have gained by identifying and answering a research question.
In addition to mandatory Econometrics modules, students on the International Development strand will have other required modules.
Assessment on the M.Sc. register will be based on coursework and the dissertation. The pass mark is 50%.
To qualify for the award of the M.Sc. (Econ.), students must have an overall average mark of at least 50% and achieve a pass mark in the dissertation and in each module. Students who fail the dissertation will be eligible for the award of Postgraduate Diploma in Economics, provided they complete 60 ECTS.
Further details are available on the course website.
A number of scholarships may be awarded annually to highly qualified candidates, for details see the course website.
Career Opportunities
A significant number of our MSc students have gone on to study for a PhD at leading universities around the world such as Boston University, Duke University, New York University, Oxford, LSE, UCL, University of Queensland, Stanford University and Trinity College Dublin. Our graduates are also highly sought after by private sector employers, for example in banking, finance and consulting. Many of our graduates also go on to pursue successful careers in government, multinational organisations, think tanks and non-governmental organisations who value the analytical and problem-solving skills our graduates possess.
Click Here for further information on modules/subject.
Study Economics (M.Sc.) at Trinity
An overview of the key points of the MSc Economics (including module content, structure and admission criteria) by Agustín Bénétrix
Course Details
Number of Places
25 Places
Next Intake
September 2023
Course Director
Agustín Bénétrix
Closing Date
31st July 2023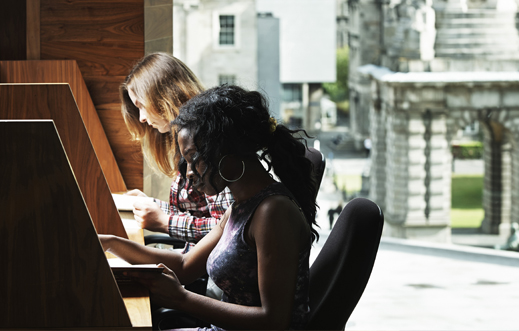 Admission Requirements
Candidates should normally hold at least an upper second-class honors degree that has a significant quantitative component, most commonly single or joint honors Economics degrees.
Course Fees
Click here for a full list of postgraduate fees.
Apply
To apply, click on the relevant Apply Link below
Get in Touch
Telephone Number
+353-1-896 1325
Email
Website
www.tcd.ie/Economics/postgraduate/msceconomics/index.php
Register Your Interest
Register your interest in postgraduate study at Trinity College Dublin, the University of Dublin.
As Ireland's leading university, we offer a wide range of postgraduate programmes at masters, diploma and certificate level.
Trinity is an international university steeped in history, with a reputation for excellence in education, research and innovation.