Comparative Social Change (M.Sc.)
Overview
To apply for this course please click on the link below:
https://sisweb.ucd.ie/usis/!W_HU_MENU.P_PUBLISH?p_tag=PROG&MAJR=W360
Introduction: This course is offered jointly by the Department of Sociology at Trinity College Dublin and the School of Sociology at University College Dublin to develop students' knowledge of the main currents of social change today, the social, cultural and economic forces which are driving them and the different forms they take across states. The course has a significant international dimension drawing on the rich and informative experiences of other EU member states, North America, the four Asian Tigers, plus the BRIC countries, particularly Brazil, China and India. In addition, the course provides advanced training in conceptualising, designing and conducting comparative research across countries and the role that this can play in policy development. It provides students with both the theoretical frameworks and practical research skills necessary to understand the processes and pressing issues presented by global social change. It aims to show students how everyday experience and practices are shaped by broader social and economic processes. As the programme is jointly delivered by Trinity's Department of Sociology and the School of Sociology at UCD students benefit from a greater range of staff expertise, both in terms of teaching and research supervision, in the areas of comparative research methodologies and social change. Policy-relevant and practice-based components, such as fieldwork projects, add an extra dimension to the MSc which have been designed to contribute to the training and employability of the next generation of researchers.

2. Admission Requirements: Candidates should normally have achieved an upper second class honors degree (2.1) or equivalent, preferably with a social sciences component and excellent academic references. GPAs of at least 3.0 out of 4, or equivalent, will be expected from international applicants. All applicants whose first language is not English or who have not been educated through the medium of English will need to present evidence of English language competency.

3. Duration: The MSc in Comparative Social Change is a one-year full time course.

4. Course Structure: The MSc carries 90 ECTS, the Postgraduate Diploma carries 60 ECTS (exit only).

The three core modules are:
1. Globalisation and Social Change: India, China, Brazil (10 ECTS)
2. Introduction to Comparative Social Change: Concepts and Cases (10 ECTS)
3. Research Methods (10 ECTS)
The electives may vary from year to year and are worth 10 ECTS each. Students select 30 ECTS in total (at least 10 ECTS from each partner University). In 2023/24 these include:
1. The Migration Challenge: Comparative Educational Perspectives
2. Economic Globalisation and Social Change
3. Gender and Social Change in a Comparative Context
4. Comparing Healthcare Systems
5. Migration, Labour and Conflict
6. Nationalism and Social Change
7. Religion in Comparative Perspective
8. Sociological Thinking in the Digital Age
9. Social Change and Adolescent Health and Wellbeing: Issues and Challenges
In addition, students will complete a dissertation not exceeding 20,000 words (30 ECTS).
Click Here for further information on modules/subject.

5. Assessment and Progression: The assessment is based on a variety of coursework elements including essays, presentations and projects and a dissertation.
Students who achieve a pass mark on their research proposal (minimum 40%) may proceed to write a dissertation between April and August, subject to having passed all required taught module assessments including resubmissions. In the calculation of the overall mark for the course, modules are weighted according to their ECTS credit weighting. To qualify for the award of MSc degree, students must: a) achieve an overall mark of at least 40% in each of the taught modules amounting to 60 ECTS, b) achieve a pass mark in the dissertation, and c) achieve an overall pass mark of 40%.
Students failing to pass taught modules may resubmit required coursework within two weeks from notification of the original mark. Students who, following re-assessment, have failed to pass taught modules will be deemed to have failed overall, and may reapply to repeat the course. Candidates whose dissertations do not meet the minimum pass standard may have the opportunity to re-submit in accordance with the General Regulations for Taught Graduate Courses at the administrative hub institution (UCD).
Following consultation with the Course Director, students who fail to pass the dissertation may opt or be advised to exit with a Postgraduate Diploma in Comparative Social Change provided that they have passed modules amounting to 60 credits, and have an overall average mark of at least 40%. M.Sc. candidates who achieve a mark of at least 70% in the dissertation and in the overall average mark for the course may be awarded the M.Sc. with Distinction. A Distinction cannot be awarded if a student has failed any credit during the course.

6. Re-admittance to MSc: Students who have exited with a Postgraduate Diploma may apply to submit subsequently for the corresponding Master's degree. Following completion of the Master's requirements the student will inform the Registrar of his/her intention to rescind the Postgraduate Diploma and have the credit obtained during the Postgraduate Diploma integrated into the Master's degree. The student will be required to submit the original Postgraduate Diploma and/or any duplicates that have been issued. The time limit for applying to complete the credits required for the Master's degree will normally be up to 5 years following completion of the Postgraduate Diploma In exceptional circumstances, a longer time limit may be considered by the Dean of Graduate Studies. This arrangement is not available to students who exit with the Postgraduate Diploma as a consequence of failing to attain the pass requirements of the Master's.

7. How to apply: UCD is the administrative hub of the MSc Comparative Social Change and applications therefore need to be made solely to UCD at the link below. Applications are then assessed by the Course Director and Course Coordinator. Upon graduation, students receive a single joint award/degree bearing the institutional names and logos of both Trinity College Dublin and University College Dublin.
Career Opportunities
The MSc in Comparative Social Change is particularly relevant for students who are interested in pursuing careers in research, policy development, the public sector, nongovernmental organisations and national or local government. Students receive a solid academic training in social change issues - such as gender, education and the labour market - which can be applied to real-world problems. This training has the potential to open up career opportunities in fields such as advocacy, the media and communications. Furthermore, policy-relevant and practice-based components, such as fieldwork projects, have been designed to contribute to the training and employability of the next generation of researchers, adding an extra dimension to the MSc programme.
Students also learn valuable writing, communication, problem solving and policy assessment skills - transferrable skills which can be applied to a wide range of careers and further postgraduate study
Study Comparative Social Change at Trinity
An overview of the key points of the MSc Comparative Social Change (including module content, structure, admission criteria, scholarships and career options).
Course Details
Number of Places
25 Places
Next Intake
September 2023
Course Coordinator
Dr Gerard Boucher, University College Dublin
Course Director
Professor Daniel Faas
Closing Date
31st July 2023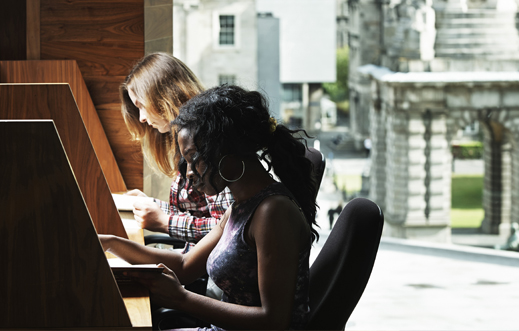 Apply
To apply, click on the relevant Apply Link below
Get in Touch
Telephone Number
+353 1 896 2701
Email
Website
https://www.tcd.ie/sociology/postgraduate/msc-comp-social-change/index.php
Register Your Interest
Register your interest in postgraduate study at Trinity College Dublin, the University of Dublin.
As Ireland's leading university, we offer a wide range of postgraduate programmes at masters, diploma and certificate level.
Trinity is an international university steeped in history, with a reputation for excellence in education, research and innovation.
Testimonials
"Without the MSc in Comparative Social Change I would never have got into the PhD programme at the European University Institute."

Graduate
Testimonials
"I'd recommend the programme for anyone considering working for international NGOs, public sector, as a social researcher, and even if you want to stay within the world of academia."

Graduate
Testimonials
"I would highly recommend this program not only for those who are already pursuing careers in Sociology, but also for those who want to have a broader and clearer view of our current society."

Graduate