Philosophy
1 year full-time / 2 years part-time
Overview
The Trinity M.Phil. in Philosophy offers the foundation for advanced research in philosophy. Students are given in-depth courses in philosophical methodology, core areas of contemporary philosophy, the Anglo-American and Modern European traditions and the application of contemporary scholarship to key historical figures. Students will also write a dissertation on a topic of their choice in consultation with the course director and their supervisor.
The course incorporates both taught and research components. Students take six mandatory taught modules (10 ECTS each) and write a 15,000 word dissertation (30 ECTS). Dissertation will be submitted over the summer with the deadline in of 31 August. Taught modules may change
from one year to the next depending on staff availability. The following modules were offered in 2021/22:
Introduction to Philosophical Research Contemporary Analytical Philosophy Modern European Philosophy Metaphysics
Ancient Philosophy Ethics
Dissertation
• Introduction to Philosophical Research
• The Development of Analytic Philosophy
• Modern European Philosophy
• Metaphysics
• Ancient Philosophy
• Ethics
• Dissertation
Career Opportunities
Philosophy graduates find that their ability to be analytical, to question assumptions and to be innovative thinkers opens up a range of opportunities in fields as varied as teaching, journalism, media, advertising, law, finance and technology. This MPhil is also particularly relevant for students who are interested in pursuing further philosophical research.
Click Here for further information on modules/subject.
Study Philosophy at Trinity
Introduction to the MPhil in Philosophy programme by Dr James Miller and Dr Pauline Sabrier at Trinity College Dublin
Course Details
Number of Places
15 Places
Next Intake
September 2023
Course Director
John Divers
Closing Date
31st July 2023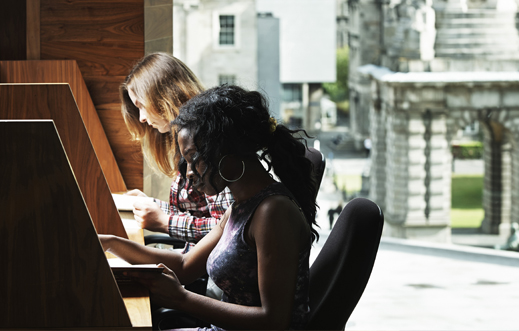 Admission Requirements
An undergraduate degree at 2.1 or above (or equivalent) in philosophy is the normal requirement, but applicants who can demonstrate a strong philosophy component in their degree in a different discipline will be considered on a case by case basis.
Course Fees
Click here for a full list of postgraduate fees.
Apply
To apply, click on the relevant Apply Link below
Get in Touch
Telephone Number
+353-1-896 1529
Email
Website
https://www.tcd.ie/Philosophy/postgraduate/MPhil/
Register Your Interest
Register your interest in postgraduate study at Trinity College Dublin, the University of Dublin.
As Ireland's leading university, we offer a wide range of postgraduate programmes at masters, diploma and certificate level.
Trinity is an international university steeped in history, with a reputation for excellence in education, research and innovation.
Testimonials
---
"While I was an M.Phil student in the philosophy department, I felt like the faculty cared about me, were interested in my ideas, and wanted to help me do well. I was exposed to different areas in philosophy and encouraged to think about them in an in-depth way. We took courses on a wide range of topics and thinkers including contemporary metaphysics, Husserl, Plato and ethics. I am now doing a PhD in philosophy in the University of Notre Dame, and my interests have changed quite a bit since the end of my undergraduate degree. I am glad that I got a broad education earlier on. The small class sizes, assignments, and the dissertation also helped prepare me for further graduate study. And it was great to be able to interact with and learn from other students who were interested in philosophy!"
Graduate
"Being in an approachable and supportive community of world-class scholars has maximized my progress on my Ph.D. project, honed my teaching skills, and fostered my professional development. Combined with the intensive one-on-one supervision; numerous colloquiums, lecture series, and workshops; professional development events; and teaching opportunities, the philosophy department at TCD has prepared me for the completion of my Ph.D. thesis, as well as the competitive job market."
Graduate