Overview
The MSc in Economic Policy provides students with a comprehensive grounding in the contemporary aspects of economic policy design and implementation and will equip them with the ability to engage confidently in evidence-based economic policy making. It equips students with the knowledge and understanding required to thrive in policy related careers.
This is a jointly delivered programme between the Department of Economics at Trinity College Dublin and the Economic and Social Research Institute (ESRI). It is aimed students who do not have a background in economics or who wish to refresh their economics knowledge through a policy angle. This programme will enable graduates to engage with international and national economic research with relevance for Irish policy formation. It will cover a range of key policy areas including, but not limited to, health economics, housing, climate change, banking, regulation, behavioural economics, taxation and welfare.
This degree will provide you with a unique understanding of the complex challenges of contemporary governance, providing a real-world context to the policy-making skills you will develop
This is the only masters programme in Ireland which has been specifically designed for those working in the public sector and/or policy design and evaluation who do not have a background in Economics to allow them to better engage with international and national economic research with relevance for Irish policy formation. The combination of expertise from TCD's Economics Department and the policy focussed research at the ESRI provides a unique programme which combines technical and evaluation expertise applied to Irish policy challenges.
Course structure
The M.Sc. in Economic Policy is a two-year parttime programme. The programme will have one intake every two years starting in January 2022. The course comprises 12 modules, six of which are compulsory modules and will focus on core concepts and skills. The other six modules are focused on key policy areas and students will select three of these. Students will carry out a dissertation in their second year relating to a relevant policy area.

The Course Modules are:
• Micro Economic Policy
• Macro Economic Policy
• Quantitative Methods for Economics I and II
• Research Methods for Economics
• Applied policy evaluation
• Regulation and Banking
• Behavioural Economics
• Urban and Housing Economics
• Health Economics
• Energy, Environment and Climate Change
• Taxation and welfare
• Research Dissertation
Click Here for further information on modules/subject.
Study Economic Policy (M.Sc. / P.Grad.Dip) at Trinity
Introduction to the programme MSc in Economic Policy by the programme director, Prof. Eleanor Denny, of the Economics Department at Trinity College Dublin
Course Details
Next Intake
January 2022
Course Director
Michael King
Closing Date
14th January 2022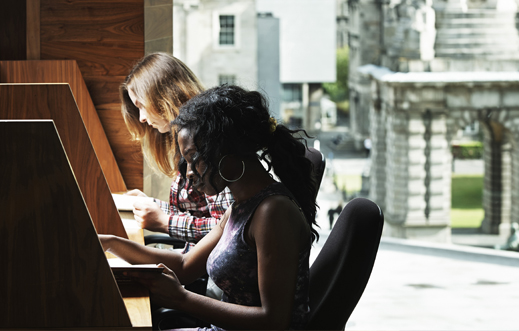 Admission Requirements
Admission to the course is competitive. Applicants will be expected to have a level 8 Bachelor's degree at 2.1 or above in any discipline and five years policy experience. Applicants with less than five years experience or a level 7 qualification with eight years experience in a policy relevant area will be considered on a case by case basis by the Dean of Graduate Studies."
Course Fees
Click here for a full list of postgraduate fees.
Apply
To apply, click on the relevant Apply Link below
Get in Touch
Telephone Number
8961325
01 896 2735

Email
Michael.King@tcd.ie
Register Your Interest
Register your interest in postgraduate study at Trinity College Dublin, the University of Dublin.
As Ireland's leading university, we offer a wide range of postgraduate programmes at masters, diploma and certificate level.
Trinity is an international university steeped in history, with a reputation for excellence in education, research and innovation.