Financial Risk Management (M.Sc.)
Overview
This programme is designed for students with a quantitative background who want to explore how financial tools can be used to mitigate risk for corporations and society. Industry professionals, practitioners and consultants from around the world will teach you how to forecast, react to and minimalise risk.
We deliver a comprehensive understanding of the core pillars of risk management; credit risk, market risk and operations risk to ensure you have the theoretical foundation for success. You will learn how to explore the key financial tools that are used to mitigate risk, how to interpret and assess the risk of individual financial instruments and assets and how to develop the critical skills to assess the results. This programme is partnered with PRMIA & GARP maximising your career potential in the field of risk management. You will gain practical skills through Bloomberg training and real-life case studies to give you an edge in the competitive job market.
Course Structure
This MSc. course is 90 credits delivered over one academic year. The taught component comprises modules totalling 60 credits. Students also complete a substantial research project, which accounts for a further 30 credits, to be eligible for consideration for the award of the degree.
Core Modules*
• Corporate Finance
• Derivatives
• Credit and Fixed Income Instruments
• Credit Risk
• Market Risk
• Operational Risk
• Risk Quantification & Measurement
• Mathematics of Contingent Claims
Choose from a wide range of electives: Econometrics & Data Science, Advanced International Statement Analysis, Treasury Management, Portfolio & Wealth Management, Energy Finance and Trading, Private Equity, Financial Markets & Institutions, Financial Modelling & Scenario Analysis, Panel & Cross Sectional Data Analysis, Enterprise Risk Management, Trading Psychology & Behavioural Analysis, Impact Investment & Risk Management, Business Ethics
* Modules subject to change
Click Here for further information on modules/subject.
Dissertation – Your research project is the culmination of your degree, allowing you to demonstrate and apply the techniques and knowledge acquired from the taught modules to a problem of real world academic or managerial concern.
Trinity Business School - More than a degree
In 2019, we opened our new state-of-the-art home, a near zero energy, six storey building that includes an innovation and entrepreneurial hub, a 600 seat auditorium, smart classrooms and the latest digital technology; and it remains in the heart of Trinity's campus. We bring in class learning to life with our strong emphasis on experiential learning through the use of case studies, teamwork and professional development modules. The competencies developed here are what employers continually endorse as a much-valued feature of our graduates.
Our dedicated career development team will help you identify your ideal career path and provide tailored advice on how best to achieve your goals. They offer a range of services including:
Advertise graduate vacancies and host job fairs for business students
Career classes on topics such as CVs, interviews & work permits
Career guidance tools to help you identify your career interests
Individual career meetings to discuss your personal career needs
Study Financial Risk Management (M.Sc.) at Trinity
Introduction to the programme MSc in Financial Risk Management by Dr. Periklis Boumparis of the Business School at Trinity College Dublin
Course Details
Next Intake
September 2022
Closing Date
31st July 2022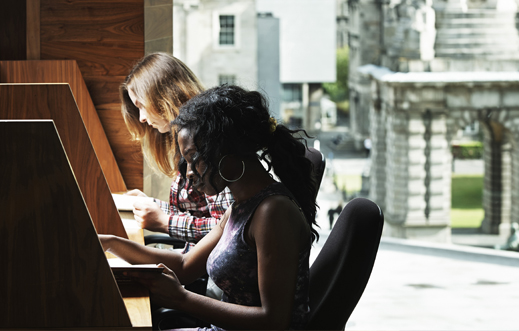 Apply
To apply, click on the relevant Apply Link below
Get in Touch
Telephone Number
+353-1-896 3024
Email
Website
https://www.tcd.ie/business//msc/financial-risk/
Register Your Interest
Register your interest in postgraduate study at Trinity College Dublin, the University of Dublin.
As Ireland's leading university, we offer a wide range of postgraduate programmes at masters, diploma and certificate level.
Trinity is an international university steeped in history, with a reputation for excellence in education, research and innovation.
Testimonials
---
Delia Ridoux, Graduate MSc in Financial Risk Management
"Trinity was an experience I will never forget. I would highly recommend Trinity Business School to anyone that wants to pursue a Master Degree in Financial Risk Management. The relative small size of the class, coupled with the devotion our lecturers gave us throughout the year was an essential component to the success of my degree. The course offered the opportunity to work as part of a group as well as develop our own knowledge of the different elements of financial risk one can meet in a corporate environment. Trinity also offered to its students a wide range of sports and societies that helped us create our own network based on similar interests and enjoy even more being part of Trinity's community. I am now working in one of the World's top banks in the Financial Risk Management sector, an opportunity I might never have had without studying the MSc Financial Risk Management programme at Trinity Business School."