Business Analytics (M.Sc.)
Overview
Our MSc in Business Analytics is ideal for students with a quantitative background. It will equip graduates with the skills and knowledge to launch a career in this fast-expanding field. You gain critical thinking skills and develop expertise to analyse and organise business data and derive actionable insights from them. In an increasingly digital world, organisations now need evidence-based reports to inform decisions and organise the vast amounts of data from multiple sources.
This part technical course will focus on the application of modern operational research and management science techniques to solve business problems and support management decisions. Gain a wide range of capabilities including technical skills, business knowledge and advanced problem-solving methods. Students will be introduced to various analytic frameworks like CRISP-DM and gather an understanding of the rising global legislation in the area of data management. In the final term students can choose to complete an industry project to gain real business experience or pursue a dissertation on a topic of their choosing.
Course Structure
This MSc. course is 90 credits delivered over one academic year. The taught component comprises modules totalling 60 credits. Students also complete a substantial research project, which accounts for a further 30 credits, to be eligible for consideration for the award of the degree.
MODULES*
Foundations of Business Analytics
Data Management and Visualization
Business Data Mining
Business Forecasting
Strategy for Analytics
Ethical and Privacy Issues in Business Data
Business Decision Optimization
Marketing research and Analytics
Financial Modelling and Analysis
Operation Analytics
Social Media Analysis
Big Data and AI in Business
* Modules subject to change
Dissertation – Your research project is the culmination of your degree, allowing you to demonstrate and apply the techniques and knowledge acquired from the taught modules to a problem of real world academic or managerial concern.
Click Here for further information on modules/subject.
Trinity Business School - More than a degree
As In 2019, we opened our new state-of-the-art home, a near zero energy, six storey building that includes an innovation and entrepreneurial hub, a 600 seat auditorium, smart classrooms and the latest digital technology; and it remains in the heart of Trinity's campus. We bring in class learning to life with our strong emphasis on experiential learning through the use of case studies, teamwork and professional development modules. The competencies developed here are what employers continually endorse as a much-valued feature of our graduates.
Our dedicated career development team will help you identify your ideal career path and provide tailored advice on how best to achieve your goals. They offer a range of services including:
Advertise graduate vacancies and host job fairs for business students.
Career classes on topics such as CVs, interviews & work permits
Career guidance tools to help you identify your career interests
Individual career meetings to discuss your personal career needs
IMPORTANT - We advise students to apply for this programme as early as possible as admission to the course is very competitive. The programme is subject to early closure as a result.
Study Business Analytics (M.Sc./P.Grad.Dip) at Trinity
Introduction to the Business Analytics MSc and P.Grad.Dip Programs by Dr. Ashish Kumar Jha at Trinity College Dublin.
Course Details
Next Intake
September 2022
Course Coordinator
Dr Ashish Kumar Jha
Course Director
Dr Ashish Kumar Jha
Closing Date
31st July 2022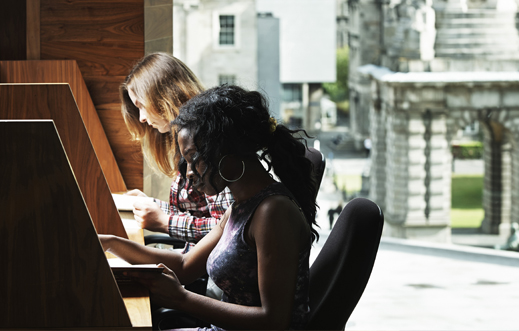 Apply
To apply, click on the relevant Apply Link below
Get in Touch
Telephone Number
+35318962731
Email
Website
www.tcd.ie/courses/postgraduate/az
Register Your Interest
Register your interest in postgraduate study at Trinity College Dublin, the University of Dublin.
As Ireland's leading university, we offer a wide range of postgraduate programmes at masters, diploma and certificate level.
Trinity is an international university steeped in history, with a reputation for excellence in education, research and innovation.