Overview
Further information on the Masters in Finance programme can be found on the Trinity Business School Website.

Programme Overview: This specialist and highly ranked programme is designed for students who want to develop the analytical and technical skills required to succeed in modern financial services.
Delivered by expert faculty and leading finance practitioners, you will receive the highest analytical and practical training possible through Bloomberg training, finance simulations and real-life case studies. Trinity Business School is partnered with the Chartered Alternative Investment Analyst Association and affiliated with the Chartered Financial Analyst Institute.

Course Structure: This MSc. course is 90 credits delivered over one academic year. The taught component comprises modules totalling 60 credits. Students also complete a dissertation which accounts for a further 30 credits, to be eligible for consideration for the award of the degree.
The full list of modules offered on the programme can be found here.

Trinity Business School - More than a degree
We are a globally-renowned, triple-accredited business school delivering an ultra-modern educational experience and innovative research from the heart of Dublin's thriving capital city. At Trinity Business School, we offer programmes that will push you to reach your full potential, immerse yourself in the latest business theory and practice, unlock powerful alumni and career networks, and accelerate your career prospects and success.
We aim to produce graduates who will become future change-makers and who seek to shape and transform business for good.

Career Opportunities: Our dedicated career support team will help you to identify your ideal career path and provide tailored advice on how to achieve your career goals. Through workshops, one-to-one coaching, career psychometric tests, and visits from top global employers, students are introduced to our vast portfolio of company recruiters.
Many students build professional connections during their studies and go on to work in global companies such as Deloitte, KPMG, Statestreet, EY and PwC, with popular employment sectors including finance, government, consulting, retail and energy.
Study Finance (M.Sc.) at Trinity
Introduction to the programme MSc in Finance by Dr. Samuel A Vigne of the Business School at Trinity College Dublin
Course Details
Next Intake
September 2023
Course Director
Martha O'Hagan Luff
Closing Date
31st July 2023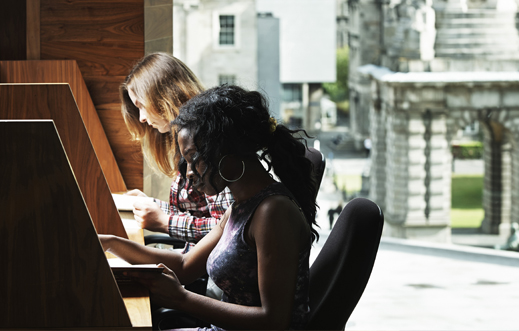 Get in Touch
Telephone Number
Email
Website
https://www.tcd.ie/business/programmes/masters-programmes/msc-in-finance/
Register Your Interest
Register your interest in postgraduate study at Trinity College Dublin, the University of Dublin.
As Ireland's leading university, we offer a wide range of postgraduate programmes at masters, diploma and certificate level.
Trinity is an international university steeped in history, with a reputation for excellence in education, research and innovation.
Testimonials
---
"Trinity business school was the best decision I could have taken, not only from an academic standpoint but most importantly for my personal development. The Masters in Finance helped me to build international relationships, expand my network and make new friends. I must say the Masters degree from TCD was a career enhancement for me as I got a job in Leveraged Finance in less than a month after I submitted my dissertation. I can also highly recommend exploring the college life in Trinity as it offers a great variety of societies and activities amidst its unique campus. Amongst many excellent modules, I must highlight the Private Equity class which I enjoyed the most. The practical and business case-oriented lectures, tutorials and group projects provide all tools necessary to get a job in Finance."
Christopher Ewert
MSc in Finance Graduate

"Many people take a narrow view on the word 'investment', but for me the MSc Finance has been my best investment to date. Engaging and prominent lecturers do not only match the reputation of the programme, but the knowledge being passed on is consistently allowing students to meet their career ambitions. Not only have many colleagues complimented the range and depth of the programme's curriculum, the potential to become involved in extra-curricular activities is superb. For example, the CFA Research Challenge and the Trinity Student-Managed Fund both provide students with invaluable access to industry mentors, and the sort of experience that employers are increasingly looking for. The mix of students from many different disciplines is testament to this. This way of thinking ensures each student's contribution is uniquely different, which leads to exciting classroom discussion and coursework. While hard work is certainly required, you are given the tools and resources to succeed."
John Harrington
MSc in Finance Graduate