Clinical Speech and Language Studies (M.Sc.)
1 year full-time / 2 years part-time
Overview
The aims of the course are to provide qualified Speech and Language Therapists with opportunities to advance their academic knowledge and professional practice skills within specific clinical specialisms: Dysphagia, Voice, or Augmentative and Alternative Communication (AAC). The course provides additional specialist qualifications to already qualified Speech and Language Therapists and does not serve as initial qualification to practise as a Speech and Language Therapist. Those without an existing qualification in Speech and Language Therapy/Speech-Language Pathology should therefore not apply.
The full time course takes place during twelve 5-day weeks spread over one year. The two-year part time M.Sc. course takes place during twelve 5-day weeks spread over a 2-year period. Applicants wishing to pursue Dysphagia or Voice may do so on a part-time or full-time basis. Applicants wishing to pursue AAC may only apply on a part-time basis. Each specialist option will only run if a minimum of five students registers for that specialism. If applicants are interested in clinical specialisms other than those listed above, they are encouraged to contact the Department to enquire about completing an M.Sc. by Research.
All students must attend Trinity College for teaching weeks. Additional assignments and clinical work must be completed outside of these weeks. For the part time M.Sc. course, core and specialist modules are taught during Year 1; research project and dissertation are the main focus in Year 2. For full time students, core modules and a dissertation are completed in one year. Classes are timetabled to facilitate clinicians in employment and overseas students.
During the M.Sc. course, students must complete a minimum of 80 hours clinical work in their chosen specialist area. Students who take the Dysphagia specialism and who have not completed a qualifying course in dysphagia will have to complete additional preparatory work. These students must have at least 40 of the required 80 clinical hours supervised by Speech and Language Therapists recognised by the Department of Clinical Speech and Language Studies at Trinity College Dublin. Students may pre-arrange their own clinical work (e.g. if completing hours in your current workplace), but must ensure that where supervision is required, proposed supervisors have been agreed with the Department. Those who do not have an identified clinical location will be assigned one by the Department.
Career Opportunities
Graduates of this course have gone on to become expert clinicians in their field and to administer clinical practices. Maybe continue to run research studies in their chosen clinical specialist area and pursue further education (e.g. PhD).
Click Here for further information on modules/subject.
Applicants taking IELTS should note that an minimum overall score of 6.5 is required and that no individual subtest score can be lower than 6.5.
Postgraduate Clinical Speech and Language Study at Trinity
This video describes the MSc Clinical Speech and Language Studies and Postgraduate Diploma in Dysphagia
Course Details
Next Intake
September 2023
Course Coordinator
Dr. Ciarán Kenny
Closing Date
30th April 2023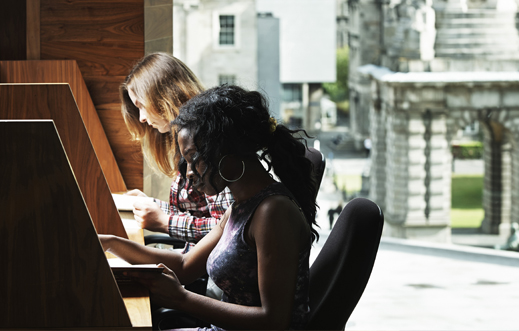 Course Fees
Click here for a full list of postgraduate fees.
Apply
To apply, click on the relevant Apply Link below
Get in Touch
Telephone Number
+353-1-896 1496
Email
Website
http://www.tcd.ie/slscs/postgraduate/taught-courses/clinical-speech-language/
Register Your Interest
Register your interest in postgraduate study at Trinity College Dublin, the University of Dublin.
As Ireland's leading university, we offer a wide range of postgraduate programmes at masters, diploma and certificate level.
Trinity is an international university steeped in history, with a reputation for excellence in education, research and innovation.
Testimonials
---
"I applied for the M.Sc. because in my clinical practice I developed the wish to further specialise in the field of dysphagia and consequently be able to better cater for the individual needs of patients with swallowing difficulties. Furthermore, I recognised how I can improve people's quality of life with evidence-based practice, but that there is still a lack of evidence-based diagnostic and therapeutic tools for dysphagic individuals. Therefore, I was keen to deepen my knowledge on research methodology to allow me to make a contribution to dysphagia research. The course at TCD is unique in Europe and for me it was the perfect combination of my interests in dysphagia and research. Additionally, it allowed me to keep on working part-time in the clinic as a SLT and to study abroad. It was the best choice of course for me. There are multiple reasons for that: the team of lecturers are highly competent and passionate, the course is well structured and organised, the modules are interesting, and with a close link to clinical practice and research, the course comprised both national and international students providing a great platform to exchange knowledge on clinical expertise from around the globe. Of course, for me as an international student, it was an amazing experience to study in a city like Dublin. Thanks to small numbers of students in the course, there was always time to ask questions. This enabled me to really engage during the lectures and provided perfect learning conditions for me. Furthermore, the intensive and individual supervision for my research project helped me to improve my skills in writing, critical thinking, planning and conducting research. Studying with other international students taught me a lot about the clinical practice nationally and internationally. I definitely recommend the course!"
Julia Hirshwald
Graduate
"I have just finished my first year of the two year part-time program in the specialist strand of Augmentative and Alternative Communication (AAC). I applied for this course after working for five years as a Speech and Language Therapist, because I wanted to develop my research skills and further develop my clinical knowledge and skills in my specialist area of interest, in which I hope to work upon graduating from the M.Sc. While studying part-time, I have been able to continue working while also improving my own clinical skills and further develop these through specialised clinical placements. The course also provides the opportunity to attend classes with lecturers who are experts in the field of Speech and Language Therapy and AAC. This year, the course has been delivered through a combination of face to face and online learning and contained a good balance of research skills and clinical skills. The quality of the teaching has been exceptional, and the classes have been interesting and engaging. The classes in the first year provided an excellent knowledge base for carrying out different types of research. I also received regular one-to-one guidance from my research supervisor which helped me to gain the confidence and skills to plan and conduct my research project. Throughout the course, I had the opportunity to meet and network with other Speech and Language Therapists from Ireland and other countries in Europe and Asia, which gave me a broader insight into clinical practice from an international perspective. I had the opportunity to work with students from the other specialisation areas on group projects, which was a great learning experience. I would highly recommend this course to Speech and Language Therapists at any stage of their career who are interested in conducting research, as well as expanding their clinical skills and knowledge.."
Roisin Farrell
Graduate
"I have always been fascinated by voice disorders and I wanted to expand my knowledge in this area. I chose to enrol in the MSc at the Department of Clinical Speech and Language Studies at Trinity College Dublin, as it gave me the opportunity to specialize in the area of my interest; something that I couldn't find anywhere else in Europe. Through this course, I had the opportunity to gain theoretical knowledge and acquire practical and clinical experience on the assessment, diagnosis and rehabilitation of voice disorders. During the course, I had also the opportunity to learn more about research and research methods. Both my clinical and research skills were developed through lectures, workshops, clinics and projects. A student taking this MSc can obtain the solid foundation needed to start a clinical or research career. I would strongly recommend this course for prospective students, especially those who seek to develop their skills in a specific clinical area. During the course, students get to meet experts in their area of interest, collaborate with other clinicians and researchers, and learn from world-renowned experts. As a Trinity student, you get to meet lots of new people and be a part of a multicultural community. Another important part of my student life here was to meet people that share the same hobbies and interests. Trinity students can join clubs and societies and be a part of extra-curricular activities around campus. Overall, life at Trinity is a positive experience and students graduate with all the necessary skills to start a new career."
Vasilis Georgalas
Graduate