Chinese Studies (M.Phil. / P.Grad.Dip.)
1 year full-time / 2 years part-time
Overview
Course Overview
Chinese Studies is a multidisciplinary field of study, drawing upon and integrating disciplines such as History, Linguistics, Politics, Cultural Studies and Translation Studies. The course focuses on China today and China over the last century. This course offers a unique and vibrant educational experience which equips its students to be global citizens. The M.Phil. programme offers the opportunity to engage with key aspects of contemporary China, including its political and economic landscape, modern history, society, popular culture and language. Given China's economic impact and international reach, this course equips its graduates to engage deeply with contemporary China.
The multidisciplinary nature of the course can accommodate students from a wide range of backgrounds. For those students who wish to acquire Mandarin, whether or not they have come in with any prior knowledge of the language, this programme provides them with the opportunity to develop their Mandarin in a relatively short time.
Delivered by expert faculty as well as regular guest speakers from business and industry, this programme will develop the skills necessary to succeed in an international environment. It is available as a one-year, full-time programme or a two-year, part-time programme.
Is This Course For Me?
The course is designed for students from a wide range of backgrounds. A background in Arts, Humanities and Social Sciences is helpful but not a requirement. The M.Phil. in Chinese Studies is designed to provide a multidisciplinary introduction to the discipline of Chinese Studies without requiring any specific prior knowledge of China or Chinese language proficiency.
Career Opportunities
Our graduates are in high demand and have pursued a wide range of careers including business and industry, communications, public affairs, diplomacy, and arts & heritage, at the UN, at multinational corporations, and in local government. Graduates have also pursued further academic research.
The university offers a bespoke careers service for all students, and our students in Chinese Studies are assigned a dedicated careers consultant.
Course Content
The degree consists of six taught modules and a final dissertation. The taught modules are composed of at least two core modules selected from Group A and three or four elective modules selected from Group B.
A full-time student takes a total of three modules in each of the two terms. In each term, at least one of the three modules must be from Group A while at least two modules must be selected from Group B.
A part-time student must take two core modules from Group A and one elective module from Group B during their first year and, in their second year of study, they must take three elective modules from Group B.
Group A modules (core modules)
- Modern Chinese History
- Contemporary Chinese Society and Politics
- Chinese Language and Writing System
Group B modules (elective modules)
- Mandarin 1
- Mandarin 2
- Mandarin Reading and Discussion Group on Contemporary China
- Governance and Politics of the PRC
- Business and Economy of Contemporary China
- Mandarin 3
- Mandarin 4
- China in Comparative Perspective
- Languages and Nations of China
- Dissertation
Note that not all elective modules may be available in any one year, depending on staff availability and timetabling. Additional elective modules may be introduced by the course committee at a later date.
Click Here for further information on modules/subject.
Course Structure
Each taught module in the M.Phil. course is weighted at 10 credits. The M.Phil. carries 90 credits: six course modules at 10 credits each (60 credits) and a dissertation (30 credits). ECTS credits are awarded to a student only upon successful completion of the course year. The M.Phil. in Chinese Studies is a NFQ Level 9 qualification.
MPhil in Chinese Studies at Trinity College Dublin
Professor Nathan Hill, Director of the Trinity Centre for Asian Studies, gives an overview of the Chinese Studies (M.Phil. / P.Grad.Dip.) at Trinity College Dublin
Course Details
Next Intake
September 2023
Course Coordinator
Professor Nathan Hill
Closing Date
31st July 2023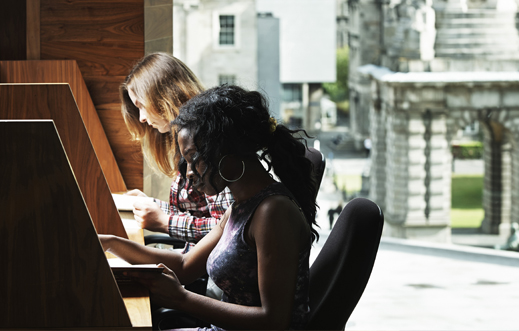 Admission Requirements
Admission to this course is at graduate level, and applicants will hold a good honours degree (minimum II.1, or a GPA of 3.5, or equivalent from another country) from a recognised university. Applicants must also satisfy the university English language requirements.
Course Fees
Click here for a full list of postgraduate fees.
Apply
To apply, click on the relevant Apply Link below
Get in Touch
Telephone Number
353-1-896 4282
Email
Website
https://www.tcd.ie/Asian/courses/chinese_studies/
Register Your Interest
Register your interest in postgraduate study at Trinity College Dublin, the University of Dublin.
As Ireland's leading university, we offer a wide range of postgraduate programmes at masters, diploma and certificate level.
Trinity is an international university steeped in history, with a reputation for excellence in education, research and innovation.
Testimonials
---
Doing the M.Phil. in Chinese Studies has been one of the best experiences in my academic career. The quality of lecturers is really world class and the balance between learning and research is perfect to prepare students for future challenges. Classes are really international, and the presence of Chinese students is a plus to foster cultural exchange. Trinity College Dublin is a vibrant environment where you receive all the support you need to have not only a great academic experience but also a fantastic personal one."
Federico Vigano
Country President, AstraZeneca Ireland
"For anybody wishing to understand China, the rising superpower set to dominate the 21st century, I would highly recommend the M.Phil. in Chinese Studies course at Trinity College Dublin. Through modules on Chinese history, politics, foreign policy, culture and language, I gained a 360-degree perspective of this fascinating nation. I would encourage Irish students in particular to undertake this course as we need many more "China hands" in Ireland as the connections between our two countries increase and as China's political and economic influence grows."
Neil Monahan
Speechwriter and Editor at the Resident Coordinator's Office at the United Nations, Nigeria