Chinese Studies (M.Phil. / P.Grad.Dip.)
1 year full-time / 2 years part-time
Overview
Chinese Studies is a multidisciplinary field of study, drawing upon and integrating disciplines such as History, Linguistics, Politics, Social Policy, Cultural Studies and Translation Studies. The course focuses on China today and China over the last century. This course offers a unique and vibrant educational experience which equips its students to be global citizens. The M.Phil. programme offers the opportunity to engage with key aspects of contemporary China, including its political and economic landscape, modern history, society, popular culture and language. Given China's economic impact and international reach, this course equips its graduates to engage deeply with contemporary China. The multidisciplinary nature of the course can accommodate students from a wide range of backgrounds.
Programme at a glance
• The programme involves six taught modules (three core, three elective) and a research project. Full-time students take three modules during each of the two terms over one year, and the research project is prepared during the third term. Part-time students take three modules each year over two years, and the research project is prepared during the third term of the second year
• Modules are assessed through a combination of presentations and written assignments
• The dissertation project allows you to showcase the knowledge you have gained in Chinese Studies by specialising in a particular area
• A wide range of optional Mandarin language classes and support, catering for all students from complete beginners to advanced learners
• Active community of professionals, practitioners and researchers, with many China-focused extramural events running throughout the year
Career Opportunities
Our graduates have pursued diverse careers including at the UN, at multinational corporations, and in local government.
Click Here for further information on modules/subject.
Course Details
Next Intake
September 2023
Course Coordinator
Professor Nathan Hill
Closing Date
31st July 2023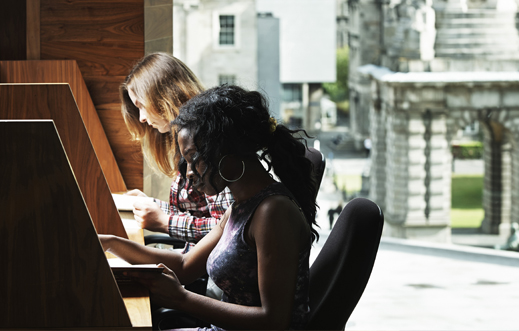 Admission Requirements
Admission to this course is at graduate level, and applicants will hold a good honours degree (minimum II.1, or a GPA of 3.5, or equivalent from another country) from a recognised university. Applicants must also satisfy the University's English language requirements. The course is designed for students from a wide range of backgrounds. A background in Arts, Humanities and Social Sciences is helpful but not a requirement. The M.Phil. in Chinese Studies is designed to provide a multidisciplinary introduction to the discipline of Chinese Studies without requiring any specific prior knowledge of China or Chinese language proficiency.
Course Fees
Click here for a full list of postgraduate fees.
Apply
To apply, click on the relevant Apply Link below
Get in Touch
Telephone Number
353-1-896 4282
Email
Website
https://www.tcd.ie/Asian/courses/chinese_studies/
Register Your Interest
Register your interest in postgraduate study at Trinity College Dublin, the University of Dublin.
As Ireland's leading university, we offer a wide range of postgraduate programmes at masters, diploma and certificate level.
Trinity is an international university steeped in history, with a reputation for excellence in education, research and innovation.
Testimonials
---
"The M.Phil. in Chinese Studies here at Trinity College provides everything a student could wish for, an academic team always ready to help you grow, and a world of possibilities in the heart of a pulsing city! The course is structured so that students can really challenge themselves in an incredibly stimulating environment. My academic skills have developed greatly, and I have also made exceptional friends here. The team is always available for help. I chose Trinity because it is a research-intensive university, ranked top in Ireland, and I have not been disappointed in any way. The M.Phil. in Chinese Studies offers modules about contemporary China, analyzing different aspects of this great, complex country. One of the best experiences I will ever have!"
Chiara Mastronardo
M.Phil. in Chinese Studies Graduate (2018)