Applied Linguistics (M.Phil. / P.Grad.Dip.)
1 year full-time / 2 years part-time
Overview
This long-established course is aimed at teachers of second and foreign languages. The discipline of applied linguistics investigates a range of issues around language in contemporary society. Among these, the most prominent issues – and the central topics of the M.Phil. in Applied Linguistics – are those surrounding second and foreign language education. It is often said that globalisation has made the learning of additional languages an essential goal in education, but in truth, language learning has been important in most places at most times. In spite of this, language education in its various aspects was under-researched until the 1960s, so that applied linguistics is a relatively young, but increasingly important field.
There are two central strands in the applied linguistics of language teaching and learning. One, usually called second language acquisition, investigates the psychology of language learning, which is a phenomenon that is not confined to the classroom or other instructed contexts. The other, second language pedagogy, focuses on instruction at various different scales: language education policy, curriculum, teaching methods, and learning tasks. Given this educational focus, applied linguistics draws not only on linguistics, but also on educational psychology, educational philosophy, social psychology, and cognitive psychology, among other disciplines.
Students need not have any background in linguistics or applied linguistics. They are normally expected to have language teaching experience. Indeed, many of our students have been practising teachers who wish to expand their career horizons by deeper study of the current state of the art in language education. In particular, CLCS has from the start been closely involved with the development of the Common European Framework of Reference for Languages (CEFR) and the associated European Language Portfolio, and the rationale for and practical use of these increasingly important tools are a recurring theme in the course.
Career Opportunities
Graduates from this programme have followed various career paths in language education and other language professions, in a variety of roles such as linguistics researcher, interpreter, business consultant and language program manager. Many have opted to pursue research at a higher level through the Ph.D., here in CLCS or elsewhere. For some, Ph.D. research has led to professional academic employment.
Click Here for further information on modules/subject.
Applied Linguistics (M.Phil. / P.Grad.Dip.)
The Centre for Language and Communication Studies (CLCS), at Trinity is a Centre of research in linguistics, applied linguistics, phonetics and speech science, computational linguistics and natural language processing.
Course Details
Next Intake
September 2023
Course Coordinator
Dr Elaine Uí Dhonnchadha
Closing Date
30th June 2023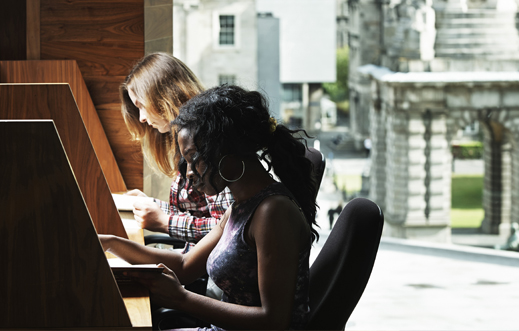 Admission Requirements
Applicants should have a good honours degree (at least an upper second or equivalent; GPA of at least 3.2). Previous knowledge of applied linguistics is not a requirement. Normally only graduates with language teaching experience are admitted to the course in Applied Linguistics. Applicants whose first language is not English and who have not been educated through the medium of English must meet the College's requirements for English-language proficiency, i.e. the minimum acceptable IELTS score is 7.0. For this course, no individual IELTS band can be below 6.5 (or the minimum equivalents in other approved English language proficiency tests listed on the College website). Students whose first language is not English are encouraged to attend our pre-sessional Summer programme to prepare them for postgraduate study in Ireland (see here). Applicants must provide a Personal Statement explaining their motivation in applying for their chosen course(s).
Course Fees
Click here for a full list of postgraduate fees.
Apply
To apply, click on the relevant Apply Link below
Get in Touch
Telephone Number
+353-1-896 2615
Email
Website
www.tcd.ie/slscs/postgraduate/taught-courses/applied-linguistics/
Register Your Interest
Register your interest in postgraduate study at Trinity College Dublin, the University of Dublin.
As Ireland's leading university, we offer a wide range of postgraduate programmes at masters, diploma and certificate level.
Trinity is an international university steeped in history, with a reputation for excellence in education, research and innovation.
Testimonials
---
"I chose Trinity mainly because of its international reputation, particularly the Linguistics department in which I'm going to study. Its location is also smack bang in the center of Dublin, which is perfect and easily accessible."
Joseph Murphy
Current student