Masters in Applied Linguistics (M.Phil.)
"an exhilarating and stimulating experience, and one which changed the course of my professional career ... The expertise and pedagogical insight of the academic staff, alongside the professional and cultural diversity of my fellow students, motivated me immensely" ... "Doing the M.Phil. was one of the smartest moves I've made in my professional career ... gave me a solid foundation in applied linguistics and new insights into language teaching which have informed my work ever since ... gave me the confidence to move into new areas, like teacher training and language acquisition research ... heartily recommend the M.Phil in Applied Linguistics to anyone interested in acquiring a better understanding of the nature of language and language learning"
---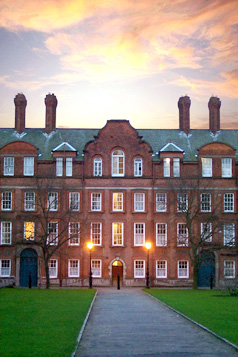 Detailed information (all M.Phil. courses): Frequently Asked Questions
Course Co-ordinator: Dr. Gessica De Angelis
To apply please see: Postgraduate Taught Courses
Full-time: one year, 6 to 8 hours per week of classes.
Part-time: two years, two to six hours per week of classes.
Course Handbook 2016-17: PDF | MS Word
---
The M.Phil. in Applied Linguistics has been offered by CLCS for nearly 30 years. The discipline of applied linguistics investigates a range of issues around language in contemporary society. Among these, the most prominent issues -- and the central topics of the M.Phil. in Applied Linguistics -- are those surrounding second and foreign language education. It is often said that globalisation has made the learning of additional languages an essential goal in education, but in truth, language learning has been important in most places at most times. In spite of this, language education in its various aspects was under-researched until the 1960s, so that applied linguistics is a relatively young, but increasingly important field.
There are two central strands in the applied linguistics of language teaching and learning. One, usually called second language acquisition, investigates the psychology of language learning, which is a phenomenon that is not confined to the classroom or other instructed contexts. The other, second language pedagogy, focuses on instruction at various different scales: language education policy, curriculum, teaching methods, and learning tasks. Given this educational focus, applied linguistics draws not only on linguistics, but also on educational psychology, educational philosophy, social psychology, and cognitive psychology, among other disciplines.
Students need not have any background in linguistics or applied linguistics. They are normally expected to have language teaching experience. Indeed, many of our students have been practising teachers who wish to expand their career horizons by deeper study of the current state of the art in language education. In particular, CLCS has from the start been closely involved with the development of the Common European Framework of Reference for Languages (CEFR) and the associated European Language Portfolio, and the rationale for and practical use of these increasingly important tools are a recurring theme in the course.
Our alumni have followed various career paths in language education and other language professions, with many opting to pursue research at a higher level through the Ph.D., here in CLCS or elsewhere. For some, Ph.D. research has led to professional academic employment.
What does the programme look like?
You take four obligatory 'core' modules:
Describing Grammar
Language Acquisition
Second Language Curriculum Planning and Implementation
Language Testing
...and choose two from among the following menu of elective modules:
Technology, Language, and Communication
Language Variation and Change
Corpus Linguistics (not available in 2017-18)
History and Globalisation of English (not available)
Bilingualism and the Maintenance of Irish (updated)
Linguistic Pragmatics
Multilingualism
Second Language Teaching
An Ghaeilge mar mheán teagaisc [Irish as a medium of instruction] (new)
Linguistic Langscapes (new)
Speech and Language Technology in Education (new)
The modules are taught in Michaelmas and Hilary terms, and students prepare and write a 15,000-word dissertation in Trinity term and the long vacation (April-August).
What will I learn?
On successful completion of the course, graduates should be able to:
engage in the description and analysis of language
debate central concepts in applied linguistics and language acquisition
discuss more advanced topics in the study of language and demonstrate the application of this knowledge to the solution of linguistic problems
integrate theory and practice in areas of applied linguistics such as language teaching and learning, language policy, language and technology, and the role of language in society
undertake research in applied linguistics, having due regard to the ethical, empirical, and theoretical aspects of this research
communicate the results of their research on topics in applied linguistics through written papers, oral presentations, and other means where appropriate
Further information
Read our Frequently Asked Questions on the M.Phil. in Applied Linguistics and related M.Phil. programmes.
For a more in-depth insight into the shape and content of the programme, please consult our current course handbook. Note that the information provided in the handbook is subject to change from year to year.
Course Handbook 2016-17: PDF | MS Word.
Telephone: +353-1-8961560
Email: clcsinfo@tcd.ie
Applying
To apply please see: Postgraduate Taught Courses