Postgraduate Studies
Director of Teaching & Learning (Postgraduate): Dr. Christer Gobl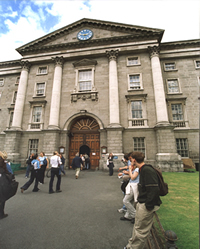 English Language Support (for registered international postgraduate students who are non-native speakers of English)
Research Funding
Ph.D. award - Department of Clinical Speech & Language Studies
---
Research Areas
The School of Linguistic, Speech and Communication Sciences support research in the following areas:
Linguistics
Applied Linguistics
Phonetics and Speech Science
Clinical Speech and Language Studies
Deaf Studies
Postgraduate orientation information (as in 2012) [DOC 40KB, PDF 49KB] from Graduate Students' Union
---
Ph.D. Research Studentship
Closing date 1 May 2016
The School of Linguistic, Speech & Communication Sciences offers a studentship available under the College's Postgraduate Research Studentship scheme. This studentship will pay annual tuition fees at EU or non-EU level as appropriate for a maximum of three years and an annual stipend of €6,500. A limited amount of teaching may be expected of students in receipt of the studentship.
Research studentships in the School are normally awarded to incoming candidates who have been accepted to study for a Ph.D. in the School. Decisions on admission are based on a combination of an applicant's research proposal (submitted as part of the application process), previous academic record, and professional experience where relevant. Information on the College's entrance requirements, fees and awards, and other regulations can be found on the Graduate_Studies website.
Further information about the School's research activities, academic staff, and resources can be found on our Research pages.
Prospective applicants are invited to contact the School's Director of Teaching and Learning (Postgraduate), Prof. Christer Gobl (cegobl@tcd.ie), in the first instance.

Applications for admission are made online.
Any student who has been accepted for admission in the School can be considered for the Research Studentship; there is no separate application form. Applicants who wish to be considered for the 2016-17 academic year must submit an application no later than 1 May 2016. They should indicate on the application form that they wish to be considered for a Research Studentship.