Clinical Speech and Language Studies (Dysphagia) (P.Grad.Dip.)
Overview
This one year part-time course aims to provide qualified Speech and Language Therapists with opportunities to advance their academic knowledge and professional practice skills in all aspects of dysphagia in both adult and paediatric populations. The course provides additional specialist qualifications to already qualified Speech and Language Therapists and does not serve as initial qualification to practise as a Speech and Language Therapist. Those without an existing qualification in Speech and Language Therapy/Speech-Language Pathology should therefore not apply.
The course takes place during six 5-day weeks spread over a 1-year period. All students must attend Trinity College for these teaching weeks. Additional assignments and clinical work must be completed outside of these weeks. This course will only run if a minimum of five applications are received. Classes are timetabled to facilitate clinicians in employment and overseas students.
The course comprises core modules on dysphagia theory and application to practice. It also teaches basic research methods, clinical evidence based practice and reflective practice. Students must also complete 80 hours of clinical work. Students who have not completed a qualifying course in dysphagia will have to complete additional preparatory work. Those students who have not completed a qualifying course in dysphagia must undertake a minimum of 40 hours supervised clinical work in dysphagia (with experienced supervisors to be recognised by the Department of Clinical Speech and Language Studies at Trinity College Dublin. Students may pre-arrange their own clinical work (e.g. if completing hours in your current workplace), but must ensure that where supervision is required, proposed supervisors have been agreed with the Department. Those who do not have an identified clinical location will be assigned one by the Department.
Applicants taking IELTS should note that an minimum overall score of 6.5 is required and that no individual subtest score can be lower than 6.5.
Postgraduate Clinical Speech and Language Study at Trinity
This video describes the MSc Clinical Speech and Language Studies and Postgraduate Diploma in Dysphagia
Course Details
Next Intake
September 2022
Course Coordinator
Dr. Ciarán Kenny
Closing Date
30th April 2022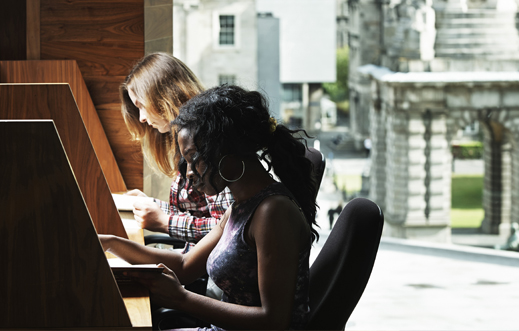 Apply
To apply, click on the relevant Apply Link below
Get in Touch
Telephone Number
+353-1-896 1496
Email
cslssec@tcd.ie.
Website
www.tcd.ie/slscs/postgraduate/taught-courses/dysphagia/
Register Your Interest
Register your interest in postgraduate study at Trinity College Dublin, the University of Dublin.
As Ireland's leading university, we offer a wide range of postgraduate programmes at masters, diploma and certificate level.
Trinity is an international university steeped in history, with a reputation for excellence in education, research and innovation.