Race, Ethnicity, Conflict (M.Phil.)
Overview
This one-year postgraduate course examines the techniques used by states and international agencies to manage peoples and conflict, their social and cultural impact and the responses they elicit. It applies a wide variety of sociological theories to racialization, gender, migration, ethnic conflict and peace-making. It is designed for people who work or wish to work in any of these fields, and/or who are thinking of PhD research. Students are taught to complete an independent research project on these issues
The course has three components:
i) Three core modules: Theories of Race and Ethnicity, Theories of Conflict and Research Methods
ii) Optional modules covering topics such as gender and race; racist and anti-racist movements; labour, migration and conflict; forced migrant and statelessness; the Israel/Palestine conflict; identity in Europe; and education and migration (Topics can vary from year to year).
iii) A 15-20,000 word dissertation researched and written under the supervision of a member of staff with relevant expertise.
Career Opportunities
Our graduates have pursued useful and rewarding work in the legal profession, advocacy, social research, teaching, journalism, public service and non-governmental organizations (NGOs), including the UN, Open Society Foundations, Crosscare, and USAID.
Click Here for further information on modules/subject.
Study Race, Ethnicity, Conflict (M.Phil.) at Trinity
Introduction to the MPhil in Race, Ethnicity, Conflict programme by Dr David Landy at Trinity College Dublin
Course Details
Number of Places
20 Places
Next Intake
September 2023
Course Coordinator
Professor Anne Holohan
Course Director
Professor David Landy
Closing Date
31st July 2023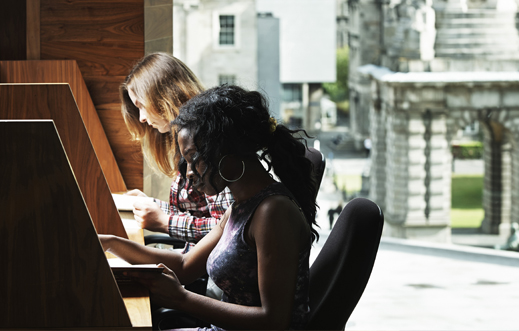 Admission Requirements
Candidates should have a good primary degree (an upper second or equivalent, GPA of at least 3.2) in one of the social sciences or a degree that has included social science as a component.
In exceptional cases, candidates without a first degree may be accepted directly into the programme if they can demonstrate that they possess the equivalent of a good first degree, have work experience in the fields of population movement, conflict, and/or publications that demonstrate analytical skills. Applicants seeking admission in this category may, where practicable, be called for interview.
In all cases the quality of the candidates statement of interest and of their academic references are important.
Course Fees
Click here for a full list of postgraduate fees.
Apply
To apply, click on the relevant Apply Link below
Get in Touch
Telephone Number
+ 353 1 8962701
Email
Website
Register Your Interest
Register your interest in postgraduate study at Trinity College Dublin, the University of Dublin.
As Ireland's leading university, we offer a wide range of postgraduate programmes at masters, diploma and certificate level.
Trinity is an international university steeped in history, with a reputation for excellence in education, research and innovation.