Conflict Resolution and Reconciliation (M.Phil. / P.Grad.Dip.)
1 Year Full Time/2 years Part Time
Overview
This course is based in Belfast, Northern Ireland reflecting the School and Trinity's commitment to cross-border education. It offers an inter-disciplinary approach to the challenges of political and social reconciliation in the aftermath of violent conflict. Graduates are equipped for work with local and international organisations, and gain transferable skills for a wide variety of careers as well as Ph.D. research
Modules offered include weekly classes taught at Trinity College Dublin at Belfast, as well as one week intensives. This course offers students academic and theoretical insight into conflict resolution and reconciliation, as well as practical skills and experience through placements and workshops.
Northern Ireland faces many social and political challenges as it emerges from decades of violence. Yet Belfast is a vibrant city, undergoing an exciting post-conflict transformation. The city provides a unique backdrop for the M.Phil., allowing students to immerse themselves in a society grappling with the challenges of, and opportunities for, conflict transformation.
Course Content (please note that not all modules may be offered every year):
Core module:
• Research Skills
Optional Modules:
• Conflict and Peace in Northern Ireland
• Conflict Transformation
• Foundations of Conflict Resolution Research
• Dynamics of Reconciliation
• Contemporary Conflict and Peacemaking: Global Perspectives
• Mediation and Peacebuilding Skills
• Community Learning and Reflective Practice
• Dissertation
Teaching takes place in Belfast over two-terms.
Dissertation: A research dissertation (15,000 – 20,000 words) to be supervised by an appropriate member of staff and to be submitted in August. Students who complete the taught element of the programme but not the dissertation may be eligible from the postgraduate diploma.
Postgraduate Study in the School of School of Religion, Theology, and Peace Studies at Trinity
This video contains an introduction to the Postgraduate Taught Programmes in the disciplines of Religion and Peace Studies offered in the School of School of Religion, Theology, and Peace Studies Trinity College Dublin, University of Dublin.
Course Details
Next Intake
September 2022
Course Coordinator
Prof. David Mitchell
Closing Date
31st July 2022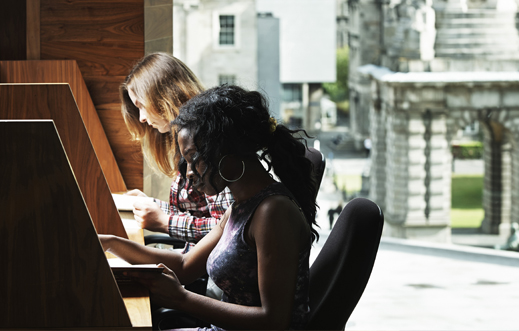 Admission Requirements
Applicants should normally have an honours degree at second class level or GPA 3.2 or above. Students not meeting these criteria may exceptionally be considered at the discretion of the Dean of Graduate Studies.
Course Fees
Click here for a full list of postgraduate fees.
Apply
To apply, click on the relevant Apply Link below
Get in Touch
Telephone Number
+353 1 896 4772
Email
Website
Register Your Interest
Register your interest in postgraduate study at Trinity College Dublin, the University of Dublin.
As Ireland's leading university, we offer a wide range of postgraduate programmes at masters, diploma and certificate level.
Trinity is an international university steeped in history, with a reputation for excellence in education, research and innovation.
Testimonials
---
"Trinity College Dublin's M.Phil in Conflict Resolution and Reconciliation offers the perfect blend of individualization you look for in any bespoke academic experience and the expertise you expect from a top international university. In the midst of the COVID-19 pandemic, the faculty in Belfast went above and beyond to build a cohesive community. I can't think of a better place to study peace and conflict, and I'm certain there isn't a better group of people to support you on that journey." - A.J. Pruitt, 2021 George J. Mitchell Scholar