International Peace Studies (M.Phil.(Peace Studies) / P.Grad.Dip.)
1 year full-time / 2 years part-time
Overview
International Peace Studies examines the sources of war and armed conflict and suggests methods of preventing and resolving them through processes of peacemaking and peacebuild-ing. The course combines perspectives from international relations, ethics and conflict resolution to reflect critically upon the wide range of social, political and economic issues associated with peace and political violence. There is also the option to participate in various field trips in Ireland and abroad.
Students are required to take the two core modules as well as four others from the list of optional modules. A sufficient number of optional modules must be taken to fulfil credit requirements.
Core Modules
• The Politics of Peace and Conflict
• Research Methods
Students must take four modules from the following list of options:
• Armed Conflict, Peace-building and Development
• The United Nations and Conflict Resolution
• Human Rights in Theory and Practice
• Gender, War and Peace
• Gender Theories
• Forced, Displacement, Conflict and Peacebuilding
• Religion, Conflict and Peace in International Relations
• NGOs in Theory and Practice: Internship Module
Teaching takes place in Dublin over two terms.
Modules may change from year to year. Modules from the M.Phil. in Intercultural Theology and Interreligious Studies are open to students on the M.Phil. in International Peace Studies. Students may take up to two modules from this other course. Students seeking to be assessed for their work from this course must first secure the permission of the relevant course coordinator.
Dissertation: A research dissertation (15,000 – 20,000 words) to be supervised by an appropriate member of staff and to be submitted in August. Students who complete the taught element of the programme but not the dissertation may be eligible for the postgraduate diploma.
Career Opportunities
Our graduates find employment in a wide range of careers, such as: conflict resolution and mediation, peacebuilding, human rights, international development, NGOs and the non-profit sector, advocacy and activism, the public sector and government, diplomacy, the United Nations and international organisations, research, teaching, journalism, academia and law.
Click Here for further information on modules/subject.
Postgraduate Study in the School of School of Religion, Theology, and Peace Studies at Trinity
This video contains an introduction to the Postgraduate Taught Programmes in the disciplines of Religion and Peace Studies offered in the School of School of Religion, Theology, and Peace Studies Trinity College Dublin, University of Dublin.
Course Details
Next Intake
September 2023
Course Coordinator
Prof. Etain Tannam
Closing Date
31st July 2023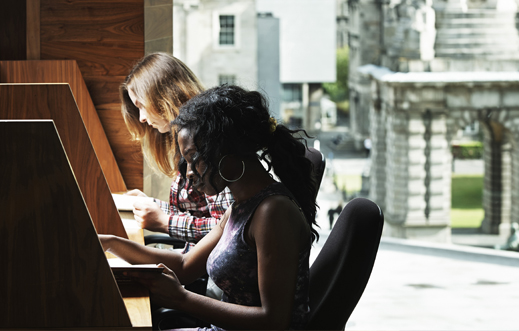 Admission Requirements
Applicants should normally have an honours degree at second class level or GPA 3.2 or above. Students not meeting these criteria may exceptionally be considered at the discretion of the Dean of Graduate Studies.
Course Fees
Click here for a full list of postgraduate fees.
Apply
To apply, click on the relevant Apply Link below
Get in Touch
Telephone Number
+353-1-8964772
Email
Website
Register Your Interest
Register your interest in postgraduate study at Trinity College Dublin, the University of Dublin.
As Ireland's leading university, we offer a wide range of postgraduate programmes at masters, diploma and certificate level.
Trinity is an international university steeped in history, with a reputation for excellence in education, research and innovation.
Testimonials
---
"The M.Phil. in International Peace Studies is unique: the modules I got to pick were fascinating and the materials/sources used very inspiring! The Programme allows you to be an independent thinker while being patiently accompanied by the staff to fulfil your true potential as a critical yet open-minded thinker: key values in order to become an active agent of change in our society today. I can honestly say that studying at Trinity College Dublin for one year was one of the greatest learning experiences I've had."
Carmel Irandoust
M.Phil. International Peace Studies