Modern and Contemporary Literary Studies (M.Phil. / P.Grad.Dip.)
1 year full-time / 2 years part-time
Overview
The study of literature is never just one thing. Modern literary culture is diverse, exciting, complex and rich. Trinity College Dublin's School of English is proud to offer a taught master's degree which grows out of and embraces this multiplicity, the M.Phil. in Modern and Contemporary Literary Studies. Here at Trinity, our School of English has internationally recognized strengths in national and international Anglophone literatures, in canonical and popular literary forms, and in material literary culture and book history.
The course offers graduates in English and related disciplines (such as History, Art History and Modern Languages) the opportunity to explore over two centuries of anglophone writing and literary history. You will be introduced to key texts, authors and ideas from the nineteenth century through to the contemporary moment. You will shape your own distinct programme of study through a variety of option modules. You will also undertake a substantial piece of independent research in the form of a dissertation. At Trinity you will join a supportive and dynamic community of students, scholars, and writers in a world-leading English department right at the heart of one of the world's great literary cities. You will also have access to the outstanding library and archival collections of our world-famous copyright library, which could form the basis for your own fundamental research.
The centrepiece of the course is the 'Perspectives in Modern and Contemporary Literature' module. Covering a range of texts and genres, contexts and concepts, this addresses some of the major trends in literary history and criticism from 1800 to the present. Further grounding in issues of importance to studying and researching English literature at postgraduate level is provided through the 'Research Skills for Postgraduate English' and 'Mapping the Literary Field' modules. Option modules reflect our commitment to cutting-edge research-led teaching. In recent year these have included: 'Lost Worlds: Victorian and Edwardian Adventure Fiction'; 'Caribbean Literature'; "Shedunnit: women and crime writing from the 19th to the 21st Century": The Woman in White in Serial Form' 'Contemporary Literary Non-Fiction' and 'Digital Textual Editing'. A range of complimentary option modules from our other M.Phil. programmes (including Children's Literature, Irish Writing, Cinema, and Gender Studies) will also be available to you. In the course's final phase you will complete a dissertation, allowing you to pursue in-depth research on a subject of your choice under expert supervision. A further exciting opportunity open to students is the chance to apply for participation in a creative writing workshop led by the visiting Writer Fellow each year at the Trinity Oscar Wilde Centre for Irish Writing.
This M.Phil. provides an excellent platform for moving on to doctoral research, as well as offering transferable skills for a variety of future careers, including in education, the arts, publishing and the media.
Career Opportunities
Our taught and research degree programmes enable students to develop their creativity and intellectual confidence, as well as offer valuable transferable skills, such as being able to present ideas clearly and persuasively, and to find, absorb and analyse complex information and concepts. Our postgraduates have gone into careers in education, the arts and culture sector, librarianship, publishing, journalism, broadcasting, public relations, social work, the civil service and management consultancy. Many alumni have also gone on to become successful writers.
Click Here for further information on modules/subject
Study Modern and Contemporary Literary Studies (M.Phil.) at Trinity
Trinity's School of English has launched an exciting new master's programme in Modern and Contemporary literary studies. Meet Professor Darryl Jones, the Course Director.
Course Details
Number of Places
20 Places
Next Intake
September 2023
Course Coordinator
Assistant Prof. Clare Clarke
Course Director
Dr Clare Clarke and Professor Darryl Jones
Closing Date
31st March 2023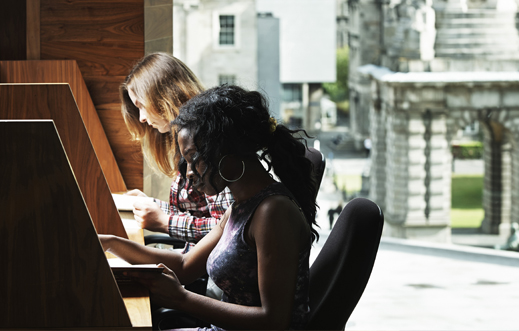 Admission Requirements
Applicants should have an Honours Bachelor degree (at least of upper-second class standard or GPA of 3.3) or equivalent qualification in a relevant subject (such as English, History, Art History, Irish Studies, Modern Languages
Course Fees
Click here for a full list of postgraduate fees
Apply
To apply, click on the relevant Apply Link below
Get in Touch
Telephone Number
+353-1-896 1111
Email
Website
https://www.tcd.ie/English/postgraduate/
Register Your Interest
Register your interest in postgraduate study at Trinity College Dublin, the University of Dublin.
As Ireland's leading university, we offer a wide range of postgraduate programmes at masters, diploma and certificate level.
Trinity is an international university steeped in history, with a reputation for excellence in education, research and innovation.
Testimonials
---
"What is particularly advantageous about this M.Phil. is the way in which I was both exposed to a wide variety of relevant literature and given the guidance to do specific research within my own academic niche. I feel like I have a much more thorough understanding of both my own scholarship and the larger context within which my research lies."
Sarah Michelson
Graduate