Creative Writing (M.Phil.)
Overview
This course, the first Masters course in creative writing at an Irish university, was offered by the School of English for the first time in 1997–98. It is based in the Trinity Oscar Wilde Centre for Irish Writing, 21 Westland Row, the birthplace of Oscar Wilde. Its faculty includes some of Ireland's leading contemporary writers, including Eoin McNamee, Deirdre Madden and Kevin Power, Harry Clifton and Carlo Gébler. Each year the Centre also plays host to visiting Writer Fellows, who in recent years have included Claire Keegan and Colette Bryce. Distinguished alumni of the programme include Chris Binchy and Sean O'Reilly. Nicole Flattery and Lisa Harding have emerged as exciting new talents in the past few years.
The M.Phil. in Creative Writing is designed as a one-year, full-time course intended for students who are seriously committed to writing, are practising, or are prospective authors, and who wish to develop their writing within the framework of a university course and in the context of an Irish literary milieu. It involves the close and critical examination of the student's work in group workshops and under guided personal tuition.
Students are required to take workshops, attend courses of lectures, and take one specialist writing workshop, while continuing to develop their own individual work throughout the year. At Trinity you will also join a diverse, supportive and dynamic community of students, scholars, and writers in a world-leading English department right at the heart of one of the world's great literary cities. You will also have access to the outstanding library and archival collections of our world-famous copyright library.
Career Opportunities
Graduates have pursued careers in a range of areas including journalism, scriptwriting, copywriting, advertising, publishing, editing, the arts and culture sector, broadcasting, librarianship, education and research. Many alumni have also gone on to become successful writers.
Click Here for further information on modules/subject.
Study Creative Writing (M.Phil) at Trinity College Dublin
Eoin McNamee, School of English, gives an overview of the Creative Writing (M.Phil.) at Trinity College Dublin
Course Details
Number of Places
16 Places
Next Intake
September 2023
Course Director
Closing Date
31st March 2023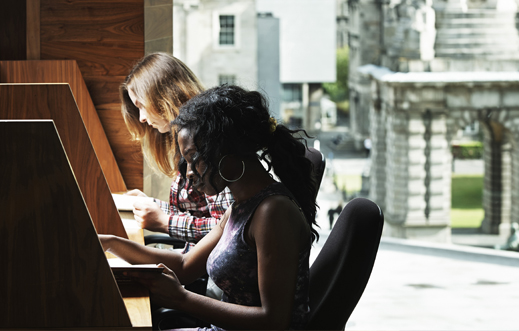 Admission Requirements
Applicants are expected to hold a university degree or equivalent qualification (at least an upper second or equivalent, GPA of at least 3.3). In addition, applicants must submit a portfolio of selected recent creative work. The portfolio of sample work should include no more than 3000 words of prose (short stories, excerpt/s from a novel or drama) or 6-8 poems; genres may be combined but this is not a requirement.
Course Fees
Click here for a full list of postgraduate fees.
Apply
To apply, click on the relevant Apply Link below
Get in Touch
Telephone Number
+353-1-896 2885
Email
Website
https://www.tcd.ie/English/postgraduate/creative-writing/
Register Your Interest
Register your interest in postgraduate study at Trinity College Dublin, the University of Dublin.
As Ireland's leading university, we offer a wide range of postgraduate programmes at masters, diploma and certificate level.
Trinity is an international university steeped in history, with a reputation for excellence in education, research and innovation.
Testimonials
---
"The year I spent at the Oscar Wilde Centre gave me the time, the focus and, crucially, the support to complete my first novel, which was published by Doubleday in the spring of 2020. The collegiate atmosphere, the sharing of ideas, the opportunity to experiment with new forms, all underpinned by a sense that the work really mattered, were of immeasurable benefit to me. I honestly can't envisage having brought the novel to completion without my Wilde time."
Hilary Fannin
Graduate
"My year in the Oscar Wilde Centre represented a certain freedom while also providing a certain structure. I had some wonderful tutors and fascinating classmates. I didn't have had a manuscript by the time I graduated, but instead I had the requisite toolbox to pursue a writing career."
Sara Baume
Graduate

"Though I had published short stories before my year in The Oscar Wilde Centre, I lacked confidence in my work. After completing the M. Phil., I found that I wrote with far more authority and consistency – in the past three years I have had three plays produced, one optioned for a film, and another translated for performance in Italy. Through its expert and friendly guidance, and its stimulating blend of emerging talents, the Centre enabled me to refine my vision. I highly recommend it."
Philip St John
Graduate