Childrens Literature (M.Phil. / P.Grad.Dip.)
1 year full-time / 2 years part-time
Overview
This postgraduate degree programme offers an exciting opportunity to study a wide range of children's literature – a broad category that encompasses everything from picture books through to Young Adult fiction. Examining texts from across several centuries, the course addresses chronologies, genres, modes of criticism, readerships, publishing trends and the full apparatus of literary investigation, while exploring the unique power dynamics that arise from adult authors creating texts for younger readers. While the focus is on literary analysis, the programme also currently offers a creative writing element. The course may be taken full-time or part-time.
Situated in Dublin, a UNESCO City of Literature, this taught master's programme also pays special attention to the role of the Irish contribution to the development of children's literature in English. It offers unique opportunities to engage in archival research, to explore the Pollard Collection of Children's Books – the largest collection of children's books in Ireland – as well as to work with the National Collection of Children's Books (nccb.tcd.ie).
The course consists a core module 'Perspectives and Case Studies in Children's Literature' that runs in the first and the second semester, as well as option modules. Students take one option module in each of the semesters, choosing from a variety of special subjects on offer each year. In recent years, the children's literature options have included: 'The Victorian Child', 'The City and Children's Literature', 'Material Culture and Children's Literature', and 'Creative Writing for Children'. Students also take the one-semester modules 'Research Skills for Postgraduate English' and 'Mapping the Literary Field', which are shared with other M.Phil. programmes at the School of English. There are also opportunities to take an option module outside of the area of children's literature. Students finally complete a dissertation of 15,000 –16,000 words.
Career Opportunities
Students of different nationalities and from diverse backgrounds and disciplines have successfully completed the programme since it was established in 2011. Many graduates have careers in areas such as editing, publishing, arts management, journalism, curation, teaching, librarianship, and academia. Over the years, students have worked with leading academics in the field, attended guest lectures by local and international scholars and authors, applied for funding opportunities to research archives at Yale University and at Trinity, collaborated with Children's Books Ireland on their 'Bold Girls' initiative, curated an exhibition in Trinity Library's Long Room (see Story Spinners: Irish Women and Children's Books), created podcasts with International Literature Festival Dublin, and immersed themselves in the vibrant children's literature community at the School of English.
Click Here for further information on modules/subject.
Study Children's Literature (M.Phil.) at Trinity
Trinity's School of English runs a world-leading master's programme in Children's Literature. Meet Course Director Dr. Pádraic Whyte to learn more.
Course Details
Number of Places
24 Places
Next Intake
September 2023
Course Director
Dr Pádraic Whyte and Dr Jane Carroll
Closing Date
31st March 2023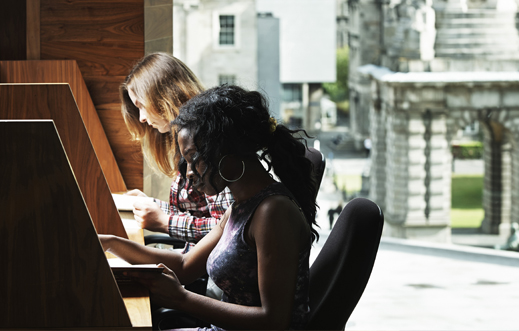 Admission Requirements
Applicants should have a good honours degree (at least an upper second or a GPA of at least 3.3). A sample of the candidate's own critical writing (3,000-5,000 words) is also required.
Course Fees
Click here for a full list of postgraduate fees.
Apply
To apply, click on the relevant Apply Link below
Get in Touch
Telephone Number
+353-1-896 1839
Email
Website
www.tcd.ie/English/postgraduate/childrens-literature/
Register Your Interest
Register your interest in postgraduate study at Trinity College Dublin, the University of Dublin.
As Ireland's leading university, we offer a wide range of postgraduate programmes at masters, diploma and certificate level.
Trinity is an international university steeped in history, with a reputation for excellence in education, research and innovation.
Testimonials
Exploring the extensive Pollard Collection of Children's Books, which is housed in Trinity College, felt like accessing a portal to the past and that amazing insight into what children of the eighteenth, nineteenth and early-twentieth centuries saw and felt and experienced is something that I will always treasure

Graduate